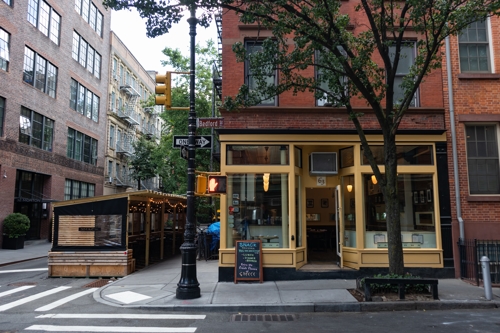 Outdoor dining's in jeopardy!
Before the vaccine rollout, when businesses were hurting and indoor dining was riddled with risk, New York handed restaurateurs a much-needed lifeline—the option to go "al fresco." But, that emergency order (issued by former Gov. Cuomo) is set to expire in July, and restaurants are concerned the numerous shed-like structures dotting the city's sidewalks may soon become relics of the past.
The New York City Council is currently considering a bill to codify the outdoor dining rules. And, at a recent hearing, the Department of Transportation's Deputy Chief of Staff Julie Schipper said the city's Open Restaurants Program will no longer apply to the "full houses" erected by restaurants in front of their establishments. Schipper told the council that umbrellas, barriers and tents can remain, but outdoor dining sheds were not part of DOT's vision for the future.
According to data from the Open Restaurants Program, some 12,000, out of the city's 27,000, restaurants currently have certified outdoor dining areas, with most receiving approval after Cuomo's emergency order was issued. To have to remove that exterior dining option will be disastrous for businesses, claim restaurant owners. "Outdoor dining evolved throughout the crisis as a means of survival," noted New York City Hospitality Alliance executive director Andrew Rigie. "Restaurants have invested a significant amount of money in their structures. Removing them before they recoup their investment poses a lot of financial burdens on an industry that has yet to recover."
Restaurant sheds have become a controversial subject, with locals complaining they result in more trash on the streets, high levels of after-hours noise, and less space for pedestrians on the sidewalks. Some advocates believe that litigation from community members over sidewalk spaces is set to overtake litigation between landlords and tenants over those same spaces.
According to a survey conducted by the Hospitality Alliance, over 90% of city's restaurants thought outdoor dining was key to their survival over the past two years, and that its continuation was critical to the future of their businesses. It is unclear how that future would change (for restaurant owners and their landlords) if the city bans sidewalk sheds. Folks like Massimo Laveglia, owner of Williamsburg restaurant, L'Industrie Pizzeria, are even willing to fork over a significant fee to keep their new dining structures intact. "[The restaurant] is not busy like it used to be before. The space is small. If people can sit outside, it helps us to survive," said Laveglia. "I don't mind if the city tells me next year that I have to pay $10K to keep the patio, just let me keep the patio."
Given the battering the City's budget has been taking over the last few years, the prospect of additional revenue may be music to local politicians' ears ….
SOURCE (MAY REQUIRE SUBSCRIPTION) - https://www.bisnow.com/new-york/news/retail/nyc-restaurants-face-uncertain-future-as-dot-threatens-outdoor-dining-sheds-111904