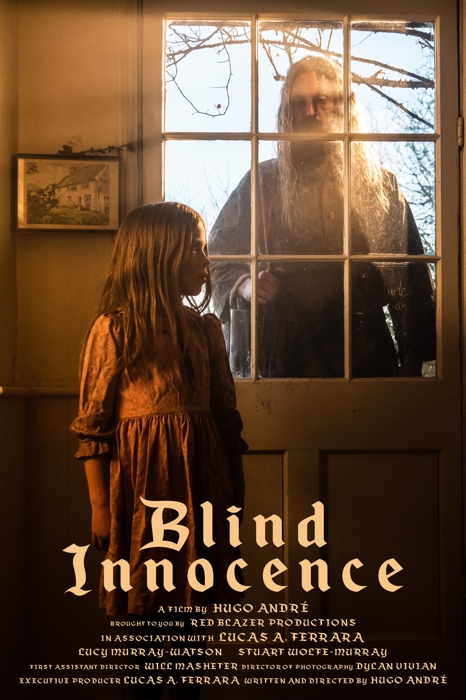 "Blindness" is defined as the inability to visually perceive things due to some "injury, disease, or congenital condition." But it's also used to describe a "lack of perception, awareness, or judgment." In other words, "ignorance."
▫️
BLIND INNOCENCE, written and directed by HUGO ANDRE, is the story of a father and daughter, living in isolation in an 1800's countryside cottage. We follow their humble day-to-day existence, as they live without any of the modern comforts and conveniences we enjoy.
▫️
Over time, the youngster is confounded by her father's daily outings, and his disappearances spark a curiosity, as the child was never allowed to travel beyond the property's perimeters. But as the film progresses, we uncover the deep, dark, secret underlying their seclusion.
▫️
Submitted to festivals across the globe, BLIND INNOCENCE has received stellar reviews, and an array of accolades, including:
▫️
Best Film, Best Director, London International Film Festival (2022)
Grand Jury Award, Oniros New York Movie Awards (2021)
Best Short Film, Best Original Screenplay, Best Color Grading, Best Hair & Makeup, Best Set Design, White Deer International Film Festival (2021)
Best Film, Best Director, CKF International Film Festival (2021)
Honorable Mention, New York Movie Awards (2021)
Finalist - Best Original Screenplay, Golden Short Film Festival (2021)
▫️
This unique work would not have been possible had it not been for the contributions of our multi-talented cast and crew who overcame considerable pandemic related hurdles to get this project completed and we gratefully acknowledge their respective contributions below.
#
Cast:
Lucy Murray-Watson @lucymurraywatson
Stuart Wolfe-Murray @boywolfemurray
#
Crew:
Written, directed & edited by: Hugo André
EP: Your truly
AP: Will Masheter
Production manager: Adele Marie @adelemarieheenan
DOP: Dylan Vivian @dylan.bijou
First Ass't Camera: Flo Goodlad-Skinner @flo_sknr
Sound Op & Design: Atom Inions @atom3eq
Music: Audio Networks
#
As the film nears the end of its festival run, Hugo released this trailer, which I am pleased to share with you.
▫️
Now there's no point being senseless. Give the clip a good look-see.
.
.
.
 
# # #
To view a list of some of Lucas's other projects, click here: https://www.imdb.com/name/nm11739610/.
# # #
#lucasaferrara #movies #movie #film #films #shortfilm #shortfilms #drama #dramas #filmmaker #filmmaking #actor #actors #director #directing