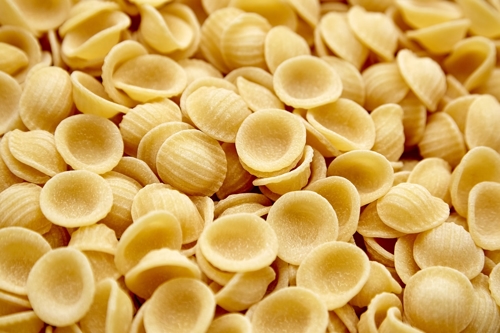 Next up, at Polpo Palm Beach — which is on the grounds of the "five-star" Eau Palm Beach Resort & Spa, 100 S. Ocean Blvd, Manalapan (Fl) — was the "ORECCHIETTE ALLA BARESE, Broccoli Rabe, Sausage, Garlic, Oil" ($36 pre-tax/tip).
▫️
Food historians are all over the place when it comes to this pasta's origins. Some trace is roots back to ancient Rome, because of a printed reference to "lixulae," a round-shaped offering with a concave center, made with flour, water and cheese. Others contend it dates to the 13th century, when the Angevins introduced "crouzet," (made with flour, water, and oil).
▫️
Whatever you believe, the name of this dish literally means, "little ears in the style of Bari." And while it's considered a cornerstone of Southern Italian cuisine, everyone has a different way of making it. Actor Stanley Tucci, for example, uses broccoli rabe, olive oil, garlic, anchovies, pepperoncini, and salt/pepper. In our view, the greens should add a "bitterness" to the dish. Some also describe the taste as "slightly peppery" and "nutty." The flavors we experienced here, though, were extremely muted.
▫️
While we asked for our dish to be made without the sausage (due to a guest's religious observance), that didn't mean we wanted the plate to be lusterless or that the substituted chicken be salty and dry. But that's what this was. At $45+ (after tax/tip) this needed to be better, so it was no surprise when this dish scored a "C-." (Of course, given what we got, the price-point adversely impacted the scoring. But, frankly, I thought it deserved an "F" … but that's just me.)
▫️
I guess you could say, I found this dish extremely ear-itating.



#lucasaferrara @polpopalmbeach #italianrestaurant #italianrestaurants #italianfood #pasta #clams #foodphotography #foodphoto #foodreviewer #foodreviews #southfloridafood #southfloridafoodies #palmbeach #palmbeachfood #palmbeachrestaurant #pastas #orecchiette