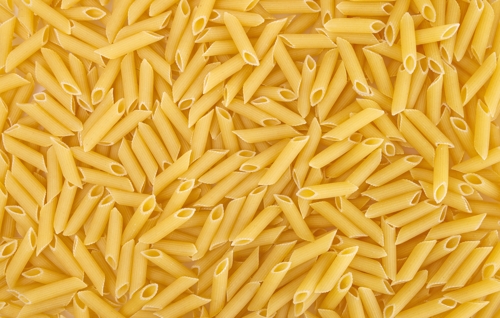 Based on a recommendation, we decided to visit Anthony's Clam House, at 2861 E Commercial Blvd, in Fort Lauderdale. While its "Grandma's Square Pizza," (reviewed earlier), was a miss, we had a yen for some pasta, and went with the "Penne ala vodka — with tomatoes, onions, peas, hot capicola & parmesan cheese, in a creaky pink sauce" ($14 pre-tax/tip). After informing us we could add chicken (+$4), shrimp (+$8), or salmon (+10), we went with the shrimp, and asked that they "hold the capicola," which is basically a cured meat made from pork shoulder and neck muscle.
▫️
While this dish's origins are disputed, some claiming the creator was a Bolognese chef who worked at a restaurant called "Dante," (in the 70s or 80s), others point to a NY-area grad student who's said to have made the first plate (back in the 80s). Most will agree that this sauce should be creamy and rich, silky to the tongue, and offer a bit of an acidic "tomatoey" bite. (Regrettably, those sensations were lacking here.)
▫️
In an interview, celebrity chef Rocco DiSpirito noted, "The dirty little secret … is not the vodka but the hefty amount of heavy cream. Vodka is colorless, odorless and without much flavor …. It's the combination of cream and tomato sauce that gives this dish its signature flavor." And to compensate for that heaviness, DiSpirito uses a low-fat Greek yogurt.
▫️
In addition to this sauce being a bit heavy and soupy, it had a "smoked ham" kind of taste — which suggested that our request that the capicola be excluded wasn't honored. And even though it wasn't a horrible dish, we weren't surprised when it yielded yet another "C-," as significant points were lost because of the kitchen's failure to honor our "no pork" request.
▫️
I, however, thought an "F" was warranted here, and that this dish belonged in a penne-tentiary.

#lucasaferrara @anthonysclamhouseandgrill #pasta #pastas #penne #food #foods #italianfood #italianfoods #italianrestaurant #italianrestaurants #restaurants #fortlauderdale #fortlauderdalefood #fortlauderdalerestaurant #southfloridafood #southfloridarestaurant #southfloridarestaurants