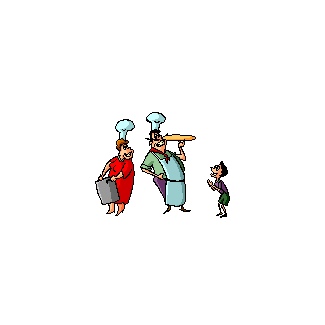 Grandma Would Not Approve ....
The most interesting thing about Anthony's Clam House, at 2861 E Commercial Blvd, in Fort Lauderdale, is that there's no "Anthony" associated with the place. It's owned and operated by Walter Hernandez, who reportedly has some "25 years of exquisite Italian culinary experience." According to the restaurant's website, Hernandez is "passionate" about making people "fall in love with food," and is fulfilling "the American immigrant dream" by sharing his offerings with his guests.
▫️
But, alas, "exquisite" isn't the word we'd use to describe our experience there.
▫️
First up, we thought we'd try the 16" x 16" Grandma Square Pizza — "topped with fresh chunky Marzano tomato sauce, pecorino romano, shredded mozzarella, basil, garlic, oregano & evoo" ($24 pre-tax/tip).
▫️
Now there's a lot of controversy surrounding this kind of sauce, which is named after the town from which it is believed to have originated (i.e., San Marzano Sul Sarno, in the Campania region of Southern Italy). To rightfully use that name, the tomatoes must be grown in Italy's Agro Sarnese-Nocerino region. But due to the lack of adequate restrictions or regulations, many companies are believed to be slapping the name on any tomato product. The problem is so pervasive, that only 5% of tomatoes sold in the USA are believed to be authentic "San Marzano" – which may account for questionable tinny taste we encountered here.
▫️
Because we also disliked the greasy sheen, and found this $30 (post-tax/tip) pie "heavy," "boring," "uninteresting," and "below-average" … it scored a lowly "C-."
▫️
As far as I'm concerned, that's all you knead to know.

#lucasaferrara @anthonysclamhouseandgrill #pizza #squarepizza #pizzas #food #foods #italianfood #italianfoods #italianrestaurant #italianrestaurants #restaurants #sanmarzano #fortlauderdale #fortlauderdalefood #fortlauderdalerestaurant #southfloridafood #southfloridarestaurant #southfloridarestaurants