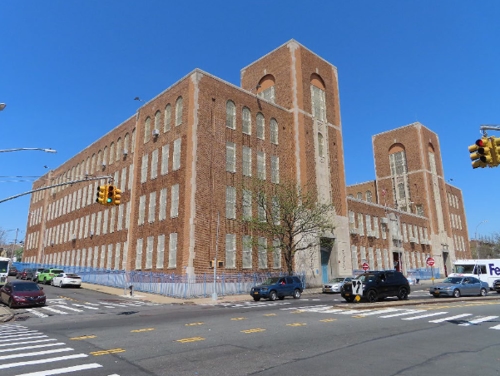 Landmarking First Vocational HS?
In late September, the Landmarks Preservation Commission announced that Samuel Gompers Industrial High School was being considered for individual landmark status.
Historically rich, the city's first vocational high school was named after Samuel Gompers, the first president of the American Federation of Labor; one of the largest labor unions in the country. (It was also the first such educational institution to focus on a single industry (electrical), rather than an abundance of trades.)
The Medieval Revival style building was designed between 1923 to 1928 by William H. Gompert, the Board of Education's chief architect and Superintendent of Buildings, and offered auto, milling, and forge shops, together with classrooms dedicated to auto transmissions, electric light, and power.
While Gompers closed in 2012, the property currently serves as an educational hub for Mott Haven Community High School, Health Education and Research Opportunities High School, and, New Visions Charter High School of the Humanities.
According to Landmark Chair Sara Carroll, "the Research Department has done a fairly extensive study or survey of school buildings throughout the city and [this building] was an absolute standout."
A public hearing on the landmarking will be held at a yet unannounced future date.
# # #
# # #
LP-2666 | Proposal to calendar Samuel Gompers Industrial High School (now Mott Haven Community, Health Education & Research Occupations, and New Visions Charter High Schools) 
# # #
SOURCE
Landmarks Commission Brief on building