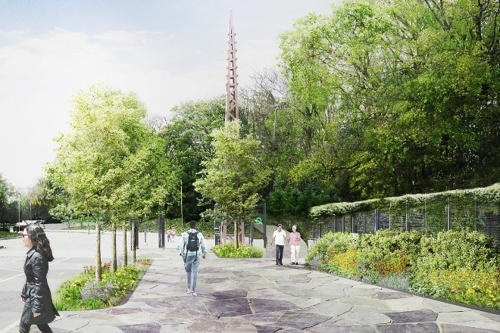 Parking Millions into QueensWay
In mid-September, Mayor Eric Adams announced a $35 million investment to transform a vacant, city-owned corridor, into a 5-acre linear park with 0.7 miles of greenway in Forest Hills, Queens. Known as the Metropolitan Hub, it's the first part of a multi-phase greenway project called the QueensWay.
The New York City Council will fund $2.5 million of the project, while construction will be carried out by the NYC Economic Development Corporation (EDC) and NYC Department of Parks and Recreation. And, eventually, there will be improved access to recreational amenities, more outdoor space for residents, and safe transportation to schools, businesses, and ten bus lines.
Many Queens neighborhoods—such as, Rego Park, Forest Hills, Glendale, Forest Park, Woodhaven, and Ozone Park—will enjoy the improvement's impact, as an unused rail line will eventually be converted into a 47-acre park, with 7 miles of greenway.
According to New York State Assembly Member Jenifer Rajkumar, "We all saw how the High Line overnight became one of the hottest destinations in the entire city, for New Yorkers and tourists alike .... This project is also expected to generate $2.2 million for our community just from people visiting local businesses."
"Every borough deserves high-quality park space …. QueensWay phase one will convert abandoned railroad tracks that have been used as a dumping ground into a linear park that will make this community safe, healthier, greener, and more prosperous," said Adams.
SOURCE:
CITY OF NEW YORK PRESS RELEASE
# # #
Thumbnail Image Credit
Conceptual rendering of the QueensWay Metropolitan Hub.
Credit: Trust for Public Land and Friends of the QueensWay