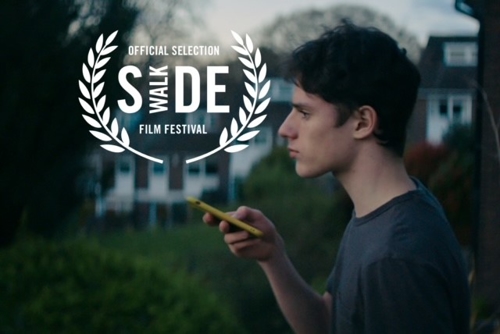 "ROLL TIDE!"  We're heading to Alabama!
▫️
Sidewalk Film — Birmingham's only independent non-profit movie theater and film festival — has selected WHY WOULDN'T I BE?, (a short film written and directed by Ella Greenwood), to screen at its 24th annual event, which will be held from August 22-28, 2022.
▫️
Teenage depression impacts millions, worldwide. To help further awareness, and combat the associated stigma, this work shines light on this extremely critical public-health issue.
▫️
Of course, without our cast and crew, this honor would not have been achievable. Our thanks to:
▫️
Writer/Director - Ella Greenwood @popsella
In association with Lucas A.Ferrara -- @lucasaferrara
Producers - Lucas A. Ferrara & Broken Flames Productions @brokenflamespd
APs - Maya Bartley O'Dea @maya_bod -- Molly McNamara-Langton @its.molly.mc
Cast - Harry Collett @harrycollettactor -- Elizabeth Berrington @elizabethberringtonofficial -- Susan Lawson-Reynolds @lawsonreynolds -- Tut Nyuot
DOP - Xenia Patricia @xeniaxpatrica
Editor - Emmalie El Fadli @editor_emmalie
Composer - Gaby Ambler @gabyamblercomposer
Sound Design - Ines Adriana @_inesadriana_
Casting - Frankie Fearis @frankie_fearis12
1 AD - Kathryn O'Reilly
Prod Design - Isobel baker-Smith @i.bakersmith
Art Assist - Safi Tobi @safitobi
Costume - Tori Hitchens @torihitchens_costume
Grade - @lizo_xai_colour
MUA - Morgane Latrace
1 AC - Alex Tan @alexjgtan
2 AC - Charlee Murphy @charleemurphyfrost
Gaffer - ET Ng @et.ng_
Spark - Hsien Yu Niu @h.y.niu
Sound Record - Adam Hurley @adam_hurley
Script Supvr - Merryn Rae Peachy @merrynrae
Covid Supvr - Emma Goldsmith @emma__goldsmith
BTS Photos - Ines Hachou @Ines_Hachou
Cast PA - Bella Burns @_bellaburns_
Runner - James Lockheart @jameslockheart_
▫️
More info here: SIDEWALK FILM FESTIVAL
▫️
Come join us in "The Heart of Dixie!"
.
 
#
To view a list of some of Lucas's other projects, click here: https://www.imdb.com/name/nm11739610/
#
.
.
#lucasaferrara #mentalhealth #harrycollett #doolittle #femaledirectors #mentalhealthawareness #femalewriters #mentalhealthmatters #depression #film #depressionawareness #indiefilm #shorts #indiefilms #femaledirector #mentalhealthawareness #films #actors #director