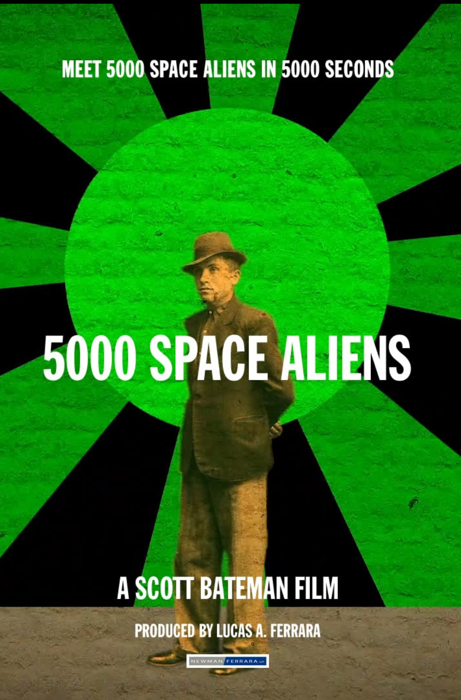 Hudson Valley's Scott Bateman has directed "The Bateman Lectures on Depression" (2018), and "You, Your Brain, & You" (2015). He's also the author of the humor-filled "Disalmanac: A Book of Fact-Like Facts" (Penguin/TarcherPerigee, 2013), was a one-day Jeopardy! champion, and, won $100,000 -- and a cruise -- on Who Wants to Be a Millionaire.
▫️
His latest full-length film, 5000 SPACE ALIENS, not only scored a "Best Feature" at the Medusa Film Festival, but Film Threat's Chuck Foster gave the movie a stellar review noting, in part:
▫️
"Imagine if Andy Warhol's silkscreens came to life and danced before your eyes. Essentially, this is 86 minutes of exactly that. 5000 one-second clips, all centered on a human form, join together in a string of motion and color propelled by a driving electronic music score. Faces flash before your eyes, barely registering in your brain before the next image demands attention in an almost subliminal fashion. This isn't Pixar and cute singing animals. This is an emotional rainbow brought to life as something new and exciting – the way of the future ….."
▫️
If you're ready for an extraterrestrial adventure, you can board now, by clicking here: https://app.beem.xyz/v/5000-space-aliens_30001286, or by visiting @scottbateman (link in his bio).
▫️
(Please note: If you're anti-alien, this movie may not be for you.)
.
.
.
#
To view a list of some of Lucas's other projects, click here.
#
#lucasaferrara @5000spacealiens @scottbateman @filmthreat @chuckfosterpideayuda
.
.
#animator #animators #animation #animatedfilm #film #films #movie #movies #artist #artists #art #feature #featurefilm #popart #synthpop #music #alien #aliens #industrialmusic #symphony #synthpop #synthpunk #warhol #warholian #moviemagic #moviemaking #moviemaker