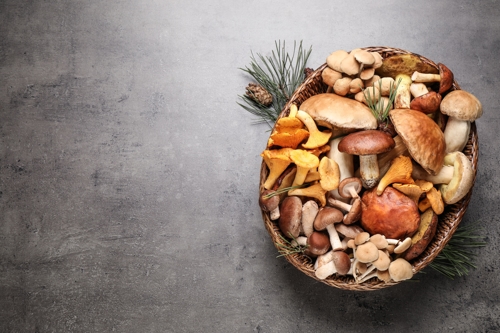 While we were at JIA — a self-described "modern Chinese dinner club," located at 808 1st Street, in Miami Beach's "SoFi" area — we next ordered the "Crystal Buddha Mushroom Dumpling," which came with "Mixed Fresh Mushroom, Peanut, Crystal Flour" ($12). This item happens to be a staple of dim sum menus across the globe, with the dough often becoming translucent, once cooked.
▫️
We usually like to order this dish because it's vegetarian, gluten-free, and offers a "meaty" taste and texture that holds up when steamed, boiled or fried. And while recipes vary, the wrappers are often filled with the likes of shiitakes and oyster mushrooms, tofu, carrot, onions, garlic, salt/pepper, butter, cornstarch, nuts, soy, sesame oil. (The crystal dumpling wrappers are made with wheat or tapioca flour/starch, (potato starch), salt, boiled water, and olive/canola oil.)
▫️
Some food writers claim, that if you're looking for the ultimate umami flavor, this is the kind of thing you should try. (But just not at JIA.) For $12 (pre-tax and tip), you'll only get four (4) bite-sized pieces; which we all agreed was parsimonious portioning, to say the least. And when it came to the taste, we were looking for something moist, rich, and/or earthy. But that ain't what we got. This was as bland as it could be. (A guest even questioned the freshness.) Whatever the reason for the insipidity, it ultimately scored an "F."
▫️
It's a dish they should certainly club ….
▫️
Namaste!
#lucasaferrara @jia_miami #jia #chinese #chinesefood #asian #asianfood #miamifood #food #foodie #foodies #restaurant #restaurants #foodreview #foodreviews #dumpling #dumplings #veggies #funghi #vegan #mushroom #mushrooms #foodcritic #southbeach #southbeachfood #miamifoodie #miamifoodies #southbeachrestaurant #vegetarian #mushroomdumplings