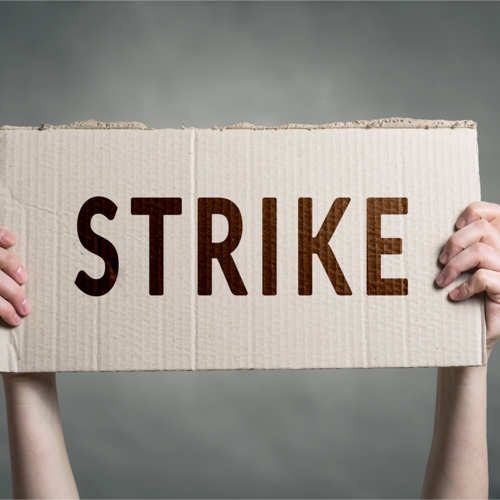 32BJ-SEIU – a labor union representing some 30,000 building workers and doormen employed at more than 3,000 New York City buildings – voted at a rally held on Manhattan's Upper East Side, on April 13, 2022, to authorize a labor strike which is scheduled to start on April 21, 2022.
By way of background, the current collective bargaining agreement in effect between the union and the Realty Advisory Board on Labor Relations (RAB), a group which represents the landlords who employ the union members, is set to expire on April 20, 2022. While the parties have been, and continue to engage, in negotiations, the prospect of a work stoppage is seeming increasingly likely. (Included among the RAB-represented landlords are such heavy hitters as Related Companies, Vornado Realty Trust, and Allied Partners.)
Negotiations have hit a roadblock in connection with RAB's proposal to cut workers' paid vacation and sick time, as well as requiring workers to contribute to their health-insurance premiums. The union members have taken issue with what they see as a step backwards – particularly in the midst of a pandemic. They have noted that their jobs were significantly impacted by COVID, with one concierge at a Central Park West building noting that he became a de facto home health aide, dog walker, and food and package deliveryman. They claim that cutbacks to their paid time off and health-insurance benefits are particularly unreasonable given those sacrifices and developments.
The union has accused RAB of failing to negotiate in good faith and has been adamant that it will begin withholding its members' services starting on April 21, 2022, if the parties cannot come together on a new collective bargaining agreement before then.
If the strike proceeds, occupants of the affected buildings (which are estimated to house approximately half a million people) – including residents of the famed "Billionaire's Row" – may, among other things, face disruptions to their mail and package-delivery services, and likely face sanitation and other disruptions of essential services. Further, as the union represents, among others, building superintendents, residents may face difficulty and/or delays obtaining necessary maintenance and/or repair work. (There is also the prospect of decreased security.)
RAB, for its part, maintains that its demands are reasonable, and notes that the two sides have enjoyed uninterrupted labor peace for over 30 years; as the last work stoppage occurred back in 1991. However, it appears that that harmony may be in jeopardy with a union representative noting that the parties have a "long way" to go and that they have yet to discuss economic issues beyond the proposed change to their benefit structure.
Hundreds of thousands of NYC residents will likely keep their eyes glued to this ongoing negotiation process and will be hoping for a resolution prior to the upcoming deadline.
Source: https://www.thecity.nyc/2022/4/13/23024431/luxury-building-doormen-authorize-strike-negotiations-stall
https://therealdeal.com/2022/04/14/doormen-authorize-strike-ahead-of-agreement-expiration/