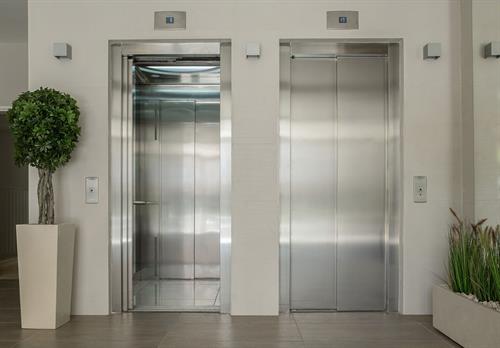 The way the story goes, young Isaac Newton – a mathematician, philosopher, and physicist -- was sitting under an apple tree when a piece of fruit fell to the ground (or hit his head), which, of course, got him thinking. And, in an instant, he realized that there had to be some "force" which was pulling things toward the earth. And he called that phenomenon "gravity," and thereafter developed what's called the "Universal Laws of Gravitation."
Even though he's widely believed to have said, "what goes up, must come down," many scholars dispute those precise words were ever actually used by Newton, particularly as related to gravity. But wherever you happen to fall there, we have another (rhetorical) question for you: What happens if things aren't moving at all? (And what's that called?)
Well, according, to Vanessa Bailey, the writer and director of a new comedy, you're STUCK.
And this latest short examines how chance encounters in a malfunctioning lift can change the course of people's lives … in an interesting way. While this rom-com completed shooting in early January, and is currently undergoing a rigorous post-production process, Vanessa was kind enough to send me a few behind-the-scenes clips featuring Calum Currie (our DOP), Marie Sophie Driffield (our 1st AD), and, of course, Vanessa, and her husband, Matt.
I have no doubt you'll find the accompanying video quite gravitating.
# # #
To view a list of some of Lucas's other projects, click here: https://www.imdb.com/name/nm11739610/.
# # #
@vanessamjbailey @mrhenryhereford @calumcurrie @chrisfrithphoto @johnnysavageart_ @emilytucks1 @thesimonhaines @tolustedford @_.eristocrat @rob_maynard_actor
.
.
.
#lucasaferrara #elevator #elevators #trapped #elevatormalfunction #movie #movies #film #films #indiemovie #indiemovies #romcom #romanticcomedy #romance #comedy #drama #femalewriter #femaledirector #directors #filmmaker #filmmakers #filmmaking #storyteller #independentfilm #independentfilms #stuck #shortfilm #shortfilms