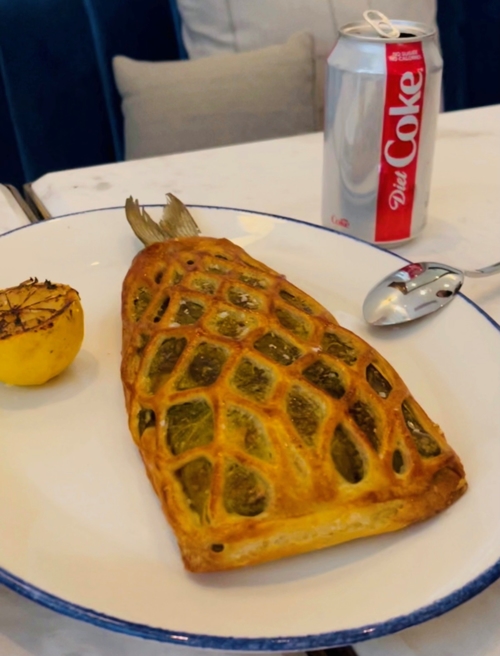 If you happen to like Byblos (Toronto & Miami), Weslodge (Toronto & Dubai), FIGO, La Société (Montreal), Patria, Sofia, Amal and STORYS Building (Toronto), chances are pretty good you'll enjoy "Meet Dalia" -- a new Mediterranean-themed restaurant located at the ground-floor level of the old Celino Hotel (640 Ocean Drive, Miami Beach).
For our next course, our server, Franklin, strongly urged us to try the $52 Branzino (baked in a salt pastry, grape leaf, olive oil, lemon). And despite the pricey ask, we thought we'd give it a whirl, since Franklin thought it was among their strongest dishes.
Described as a mild white fish, Branzino -- which is native to the Mediterranean _- is known by several different names including, "capemouth," "sea perch," "loup de mer," and "king of the mullets." Whatever you want to call it, when prepared correctly, it is a light and flaky fish which exudes a slightly sweet flavor.
Now the whole point of wrapping this thing in pastry and grape leaf is to keep it from drying out. But, for some reason, this dish came out slightly drier and saltier than we would have preferred. While it was undeniably good, for about $70 (after factoring in tax and tip), this needed to be outstanding. And it just wasn't. Notwithstanding those hurdles, this dish still scored a pretty respectable "B-." (If you're fishing for some seafood, it's not a terrible choice.)
(Did you notice that I "reeled in," or "scaled back," the fish puns here?)