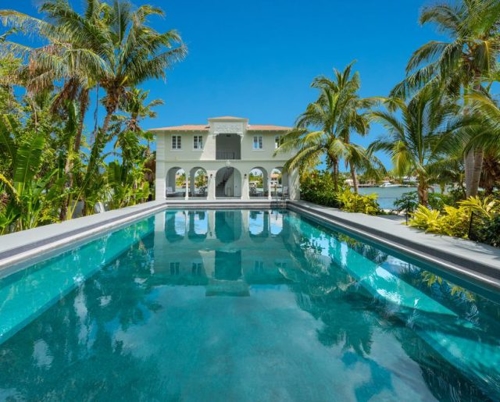 It's been nearly 100 years since the notorious Chicago crime boss, Al Capone, acquired his mansion on Palm Island in Miami, Florida. Now, the property -- purchased by a developer for $10.75 million -- will most likely be demolished and replaced with a modern spec-home.
Originally purchased in 1928, the Mafia Commission member bought the 6,077 sq. ft. prime waterfront residence for a steal, by taking advantage of a depressed Miami market after the 1926 "Great Miami Hurricane" had destroyed most of the city. (If he had waited just another year, the looming Great Depression probably would've lowered the price even more.) Capone really didn't need the discount though. Urban legend has it that "Public Enemy Number 1" was bringing in between 60-100 million a year in the late 20's (close to a billion in today's dollars)! So pouring an extra $200k into the property, as he did after he purchased, seems relatively insignificant in the scheme of things.
That money mostly went into additional security protocols (understandably) -- including a gatehouse, a seven-foot-high wall, and searchlights. He also had a grotto installed made of coral rock, alongside a large cabana.
Many locals were displeased with their new neighbor, with organizations, city residents, and even the state's governor, all expressing their concerns. No one dared to push the issue though, lest they meet the fate of the Bugs Moran Gang on St. Valentine's Day in 1929.
This site served as the location for Capone's demise after his release from Alcatraz in 1939, where he slowly succumbed to the effects of syphilis in 1947 (detailed by the 2020 Tom Hardy film Fonzo). His widow sold the property a few years later, in 1952.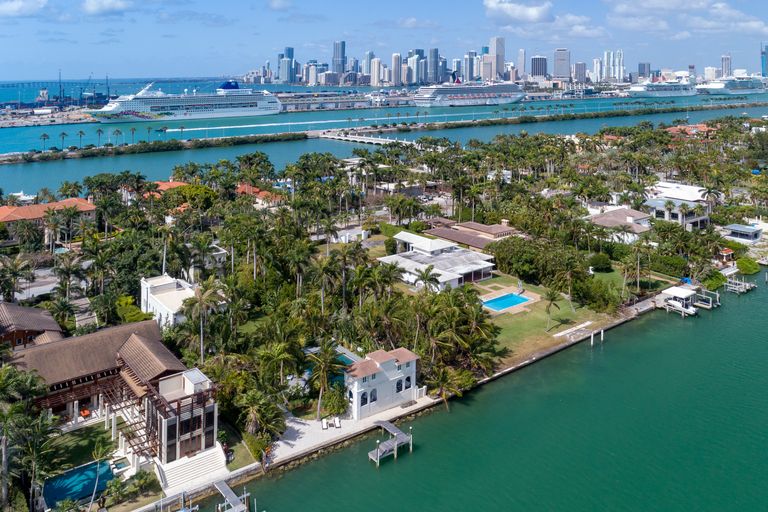 The home has traded hands a few times since then, and once belonged to Todd Michael Glaser, who also acquired the Palm Beach property of the late disgraced financier Jeffrey Epstein. Capone's former Palm Island fortress currently sports seven bedrooms, five bathrooms, two half-bathrooms, a 60-foot-long swimming pool, and a fishing and boating dock (but not for long, given the planned reconfiguration).
Palm Island has always been known for housing America's rich and famous -- with homes currently ranging from $20 million to $40 million. Other notable residents include Diddy, Gloria Estefan, Shaquille O'Neal, and Barbara Walters. The island only has one entrance and exit (completely gated), as privacy and security are big concerns for the homeowners. It also sits near South Beach, Key Biscayne and Coconut Grove – all hot-spots for nightlife, dining, and entertainment. And, of course, the popular Miami Beach is just a stone's throw away.
******
******
Source:
https://toptenrealestatedeals.com/weekly-ten-best-home-deals/home/al-capones-florida-home-heads-for-wrecking-ball

Photos: https://www.dropbox.com/home/TopTenPhotos/Weekly%20Hot%20List/9-5-2016/Al%20Capone's%20Miami%20Villa%20Death%20Home

Photo credit: EWM Realty International

Video: https://youtu.be/58OR1z_qeMk

Video Credit: Sean Evans, @evvo1991backtothemovies.com/