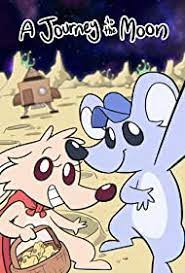 Jack Getschman, a director, writer, and voice actor, is known for Scootertrix the Abridged (2014) and Scootertrix the Abridged: The Movie (2019).
His latest work, A Journey To The Moon, is a two-minute animation short which is literally taking the world by storm, receiving laurels and accolades from (in no particular order): Florence Film Awards, Rocky Mountain International Film Festival, Seoul Short Film Festival, Tokyo International Short Film Festival, and Toronto Independent Film Festival of Cift ... just to name a few.
When asked what motivated or inspired him to make this film, he responded, "I felt it was important because in these trying times of chaos and hardships we need more simple and fun things in the world. Art and stories that put a smile on your face! And it's a good classic, adventure story with catchy music and gorgeous animation!"
The underlying premise is quite simple: two mice build a cardboard rocket ship to travel to the moon to retrieve its cheese. However, shortly after landing, they encounter monstrous moon creatures and must find a way to escape the latter's grasp so that our mousy protagonists can return home with their loot.
It is extremely entertaining and perfectly executed. But, luckily, you don't have to take my word for it. WILDscreen FEEBACK Film and Screenplay Festival recently sent Jack a video wherein audience members shared their reactions to the piece. (And need I say the responses were overwhelmingly positive?)
Our sincerest thanks to WILDscreen and all the review participants for their gracious and supportive words. And have no fear, as soon as A Journey To The Moon completes its festival journey, I'm sure we'll be sharing this delightfully cheesy adventure with you.
Onward!
*****
To view a list of some of Lucas's other projects, visit his IMDb page.