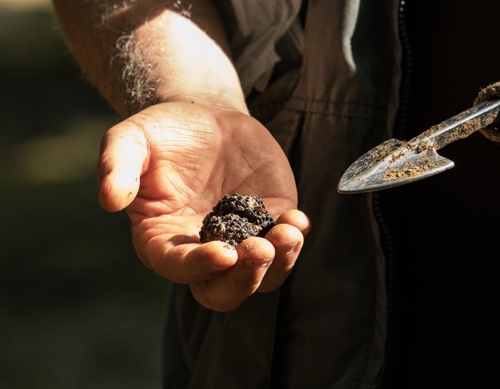 Next up at UNION KITCHEN & BAR – a new "neighborhood eatery" located 2309 N. Dixie Highway (Wilton Manors, Florida) -- was the PORCINI CAMPANELLE – described as "wild mushrooms, peas, fresh herbs and truffle cream" ($14 app/$24 entrée).
Now, if you're unfamiliar with Italian, the name of this dish translates into mushroom "bell flowers" or "little bells" – so called, because of the pasta's ruffled edges and hallow center. And due to its sturdy composition, it pairs well with meats, fish, and heavy/creamy sauces. While certainly contested, some believe this pasta originated in the Italian region of Tuscany, where it's known as "riccioli" (curls) or "gigli" (lilies).
Whether you believe that or not, Roberto Colombi and Christie Tenaud, the husband-and-wife owners of this establishment, cooked this house-made offering to perfection. Not only did it have a nice "al dente" texture, but it captured and complemented the taste of the mushrooms and other ingredients added to the mix.
Known by its scientific name of "Boletus edulis," and found in the forests of Europe, North America and Russia, porcini is said to be among the most popular edible fungi in the world. And given its meaty texture and high protein content, it's often used as meat substitute in vegetarian and vegan recipes. (I enjoy the nutty earthiness it brings to every dish.)
Sound the alarm, 'cause this dish was a hit with us, and scored a not too shabby B+. (Points were deducted because some found it a bit "heavy" on the cream, and we had an issue with the small portioning given the price-point, but that shouldn't repel you from stopping in and ordering this delectable dish.)
I guess you could say, this pasta was almost as sound as a bell …. 🔔 🔔 🔔 . . . .
#restaurant #restaurants #food #foodie #foodies #foodreview #foodcritic #wiltonmanors #wiltonmanorsfood #unionkitchen #southflorida #southfloridafood #floridafood #pasta #pastas #italianfood #foodreviews #foodreviewer #eatery #neighborhoodeatery #fortlauderdale #fortlauderdalefood #italianpasta #porcini #campanelle #truffle #trufflecream #wildmushrooms #mushrooms