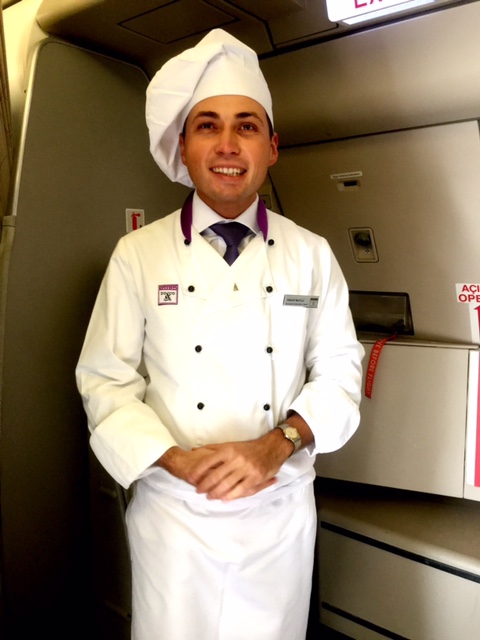 Thicker and chewier than soba, Udon are Japanese noodles made of wheat flour, water, and salt.
While its origins are disputed, some food historians believe Udon can be traced back to 7000 BC, when wheat cultivation techniques are believed to have reached China, and the edible grains were incorporated into local cuisine. Interestingly, these noodles supposedly didn't reach Japan until the 700's – where they slowly became as popular as spaghetti is to Italians, largely due to its low cost, simple prep, and delicious taste.
Many also attribute the item's popularity to its supposed health benefits. Rich in folate, niacin, riboflavin, thiamine, and vitamin B, this food is believed to reduce stress and promote overall wellness.
Since we were at PLANTA – a recently opened, 200-seat,plant-based, vegan restaurant up in West Palm Beach, Florida (700 S Rosemary Ave) – and our waiter claimed it was one of their "signature dishes," we decided to go with their UDON NOODLES, served with a "truffle mushroom cream, shaved truffle" ($24.50).
Of course, since "cream" is a diary product, and isn't vegan-appropriate, the noodles were actually coated with a "coconut, truffle, miso glaze." And while we liked the nice doughy texture, we found the sauce rather gelatinous and cloying. (It lacked the desired fungi earthiness.) And even though I thought this dish deserved yet another "fail," particularly given its $24.50 ask (pre-tax and tip), it somehow managed to escape with a "C."
"Udon?" our waiter asked, as he stared at the bowl of unfinished food. "We most certainly are," I sardonically responded. "We most certainly are."
(See how that mushroomed?)
.
.
#restaurant
#restaurants
#foodreview
#foodreviews
#wpb
#westpalmbeach
#southfloridafood
#wpbfood
#food
#foodie
#foodies
#foodcritique
#vegan
#veganfood
#vegeterian
#veganrestaurant
#plantbased
#plantbasedfood
#plantbasedrestaurant
#floridafood
#floridadining
#pasta
#noodles
#udon
#udonnoodles
#truffle
#fungi
#pastas
#japanesefood