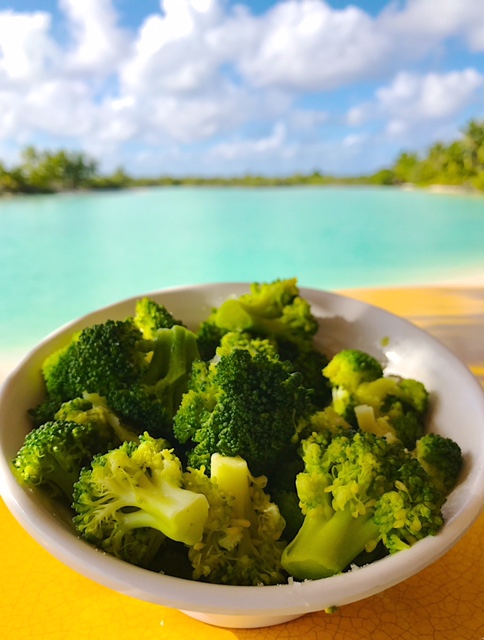 Many do not know that broccoli isn't a naturally occurring plant. It was created by human beings; a byproduct of "selective breeding" – like brussel sprouts, cauliflower, kale, and kohlrabi.
Widely touted as a "superfood," because it's replete with antioxidants, fiber, minerals and vitamins (like Vitamin C), broccoli is part of a cabbage plant species known as Brassica oleracea, and is considered a "flower vegetable," largely because it has an edible head and stem, and seeds that produce inedible flowers.
So, there we were, at PLANTA – a recently opened, 200-seat, plant-based, vegan restaurant up in West Palm Beach, Florida (700 S Rosemary Ave) – suffering through a few dishes, when our waiter strongly urged us to try the BANG BANG BROCCOLI (sweet chili & peanut sauce ($13.25)). Given its health benefits, and with a name like "Bang Bang," we thought we'd get something nutritious that would knock our socks off. But, instead, it was just another dud -- a sorry letdown.
Given that it's not a complicated dish to make – typically, with olive oil, chili sauce, sriracha, lime and seasonings – we don't understand how this greasy goo was allowed to leave the kitchen. It tasted just liked it looked: AWFUL. (Instead of having a crunch, it was repulsively soft and chewy.) And it takes chutzpah charging customers $13.25 (BEFORE tax and tip) for a side-dish that more appropriately belongs in a compost -- a recycling bin for food waste.
Because brutal, base, broccoli should be banned, and not served to any living creature -- whether herbivore or carnivore -- we scored this dicey dish an "F."
# # #
To read other food reviews, check out his Instagram page: @LucasAFerrara
.
.
.
#restaurant #restaurants #foodreview #foodreviews #wpb #westpalmbeach #southfloridafood #wpbfood #food #foodie #foodies #foodcritique #vegan #veganfood #vegeterian #veganrestaurant #plantbased #plantbasedfood #plantbasedrestaurant #planta #floridafood #floridadining #broccoli #vegetable #vegetables #greens #superfood #bangbangbrocolli #veggies