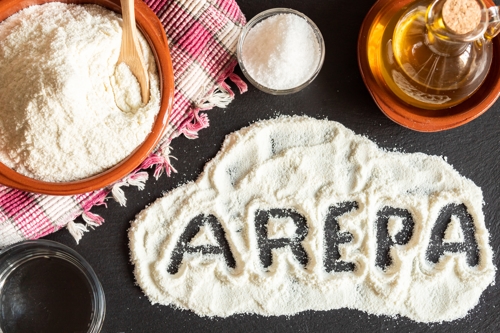 "Arepas" are basically "corncakes" that usually sport a crisp exterior and "creamy" center. Called the "world's most versatile meal," its origins are highly contested, with Colombia and Venezuela often staking claim to its creation. In Venezuela, for example, they are a popular breakfast item -- often filled with butter, cheese, meats, an avocado salad, eggs and/or beans. The Colombian version, on the other hand, tends to be simpler -- just egg or cheese.
▫️
Food historians are of the view that no one country can rightfully stake claim to the arepa's creation, as that food item is believed to date back some 3000 years, when indigenous tribes inhabited the areas. (Ancient cooking utensils related to the preparation have been unearthed in both countries, for example.)
▫️
And while the recipe will vary depending on the country and/or region, arepas are not that complicated to make. Only three ingredients are needed: Harina P.A.N. ("masarepa" or pre-cooked cornmeal), salt, and butter.
▫️
So, when our waiter at UNION RESTAURANT & BAR, a new "neighborhood eatery" at 2309 N. Dixie Highway (Wilton Manors, Florida), told us that the $14 SHORT RIB AREPAS — guacamole, lime sour cream and cilantro — were "extremely popular," we placed an order to see what all the hoopla was about.
▫️
While we found the base dense and gummy, the shreds of accompanying meat were divine. A juicy, deep beef flavor pervaded, with the additional ingredients (like the guac and lime sour cream) adding a delicious zest and zing to each to each bite. If only the base had been a bit more supple, and the price not so steep ($14 (pre-tax and tip) for just three puny pieces), this dish would have scored significantly better that the "B" it ultimately received.
▫️
Union needs to get a grippa on its arepa.
.
.
.
.
.
.
#restaurant #restaurants #food #foodie #foodies #foodreview #wiltonmanors #unionkitchen #southflorida #southfloridafood #floridafood #italianfood #foodreviews #foodreviewer #eatery #corncake #neighborhoodeatery #fortlauderdale #fortlauderdalefood #arepa #harina #masarepa #cornmeal #shortrib #beef #meat #shortribarepas #corncakes