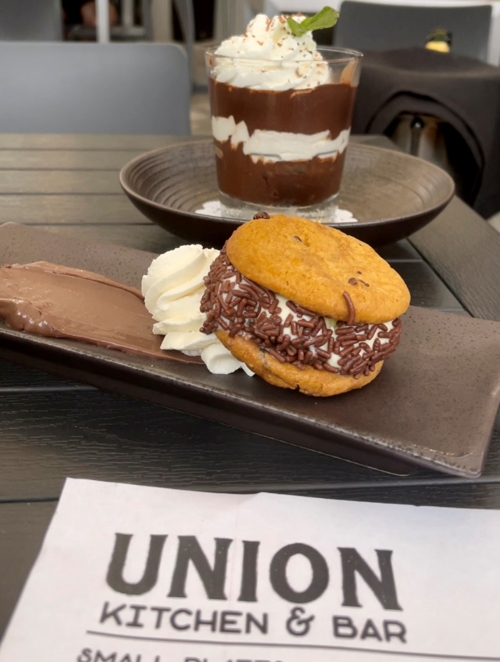 Trifles — which were traditionally three or four layers of fruit (pudding/jelly) and cake served in a round bowl — are believed to have originated in England back in the 18th century. The name comes from the Old French word "trufe" or "truffle," which basically means "of little significance or importance."
Ironically, for many diners, dessert is one of the most critical aspects of a meal, as it often triggers the last taste sensations experienced before leaving an establishment.
For our final course at Union Kitchen & Bar, 2309 N. Dixie Highway (Wilton Manors, Florida), our waiter suggested that we try the CHOCOLATE BROWNIE TRIFLE – Chantilly cream, chocolate pudding & brownies ($10), and the ICE CREAM SANDWICH special ($8.00).
An ice cream sandwich needs to be somewhat tender and chewy. It should never taste like we're nibbling on a rock, or are at risk of shattering our dentures. But, alas, this dessert came to our table "frozen solid," and was impossible to enjoy. Because it resisted our efforts to cut into it, and the little we could taste was rather drab, we rated this item an "F" – a total bust.
By contrast, we enjoyed the silky, creaminess of the Chocolate Brownie Trifle. Like whipped cream, Chantilly is light and airy, but tends to be sweeter, largely due to the confectioner's sugar. And while we were concerned that the addition of chocolate pudding and brownies might be too cloying, the combination worked just right. But some points were deducted because the brownies were dense and dry, so this item ended up scoring a "B". ▫️ Yes, desserts were a mixed bag here. (And there's certainly nothing trifling about that.)
#restaurant #restaurants #food #foodie #foodies #foodreview #foodcritic #wiltonmanors #wiltonmanorsfood #unionkitchen #southflorida #southfloridafood #floridafood #foodreviews #foodreviewer #eatery #neighborhoodeatery #sweets #icecream #icecreamsandwich #brownie #brownies #chantillycream #chocolate #pudding #chocolatepudding