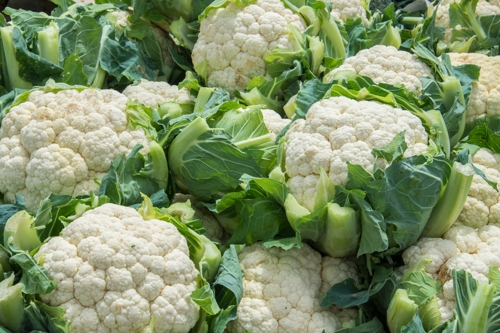 Cauliflower, a member of the cruciferous or "Brassicaceae" vegetable family, shares a chemical composition (or "phytochemistry profile") with broccoli and cabbage.
Low in calories – only about 25 in a cup – cauliflower is free of fat and cholesterol and offers health-benefiting antioxidants and vitamins. For example, this vegetable reportedly contains cancer fighting elements such as sulforaphane, and plant sterols such as indole-3-carbinol (an anti-estrogen agent, which is believed to battle breast, cervical, colon, ovarian and prostate cancers). It's also an excellent source of Vitamin C, the B-complex groups, Vitamin K – together with small quantities of calcium, copper, iron, manganese and potassium.
Always up for healthier stuff, our eyes were drawn to the SPICED CAULIFLOWER STEAK -- blue cheese & roasted vine tomatoes $19 -- listed as an entrée on the menu at UNION RESTAURANT & BAR, a new "neighborhood eatery" located at 2309 N. Dixie Highway (Wilton Manors, Florida).
And if you can believe what you read online, Ben Ford, son of the famed actor Harrison Ford -- (the guy who starred in "Star Wars," "Indiana Jones," "Witness," "Blade Runner" and "The Fugitive") -- is credited with having come up with the "cauliflower steak" concept, with his recipe calling for olive oil, garlic, capers, olives, thyme, rosemary, lemon, salt and pepper.
Now before you get all excited, this ain't a sirloin, so it doesn't taste like meat, at all. And because this vegetable tends to have a "mild" or "neutral" flavor, people tend to bury it in sauces, like the heavy blue-cheese dressing you see pictured here; effectively negating any health benefits.
A guest called it, "nothing special." And that, together with the pricey ask, sums up why it scored a lowly "B-."
With some $19 at stake, and that's before tax and tip, why "steak" the ranch on that?
. . . .
.
.