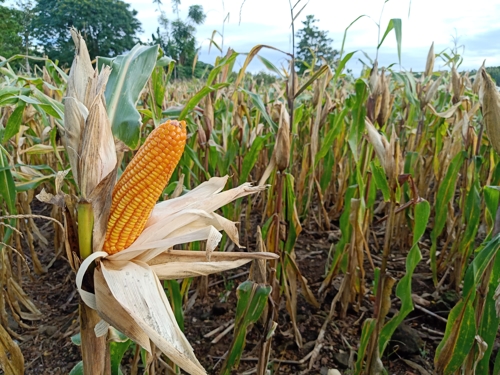 Corn – which is scientifically known as "Zea mays L." -- is believed to have first been domesticated some 10,000 years ago, in what's now known as modern-day Mexico. Native to the Americas, Christopher Columbus is credited with having introduced the plant to Europe, around 1493.

Interestingly, because of its components, it's not just a vegetable, it's also considered a whole grain, and a fruit. And according to available stats, American farmers reportedly produced about 69 million football fields of corn in 2019, alone, and about a third of that crop was used to feed the country's cattle, hogs, and poultry. The rest went for food use and conversion to biofuels.

Of course, it's nutrient rich – with loads of copper, fiber, niacin, potassium, protein, vitamin B-6, and zinc. And it's claimed to be good for eye health (due to its content of lutein and zeaxanthin), said to provide antioxidants to the body, believed to prevent diverticular disease, and even lowers cholesterol (LDL).

So, as we were reviewing the menu at UNION RESTAURANT & BAR, a new "neighborhood eatery" at 2309 N. Dixie Highway (Wilton Manors, Florida), the CORN & RICOTTA RAVIOLI – served with "bacon & tarragon cream" ($14 app/$24 entrée) – caught our eye. (We asked our attentive waiter to bring us an appetizer-sized portion of the dish, sans bacon.)

Now ricotta is technically not a cheese, but a dairy by-product, made by heating the whey leftover from other cheese-making projects. Because it often has a slightly sweet flavor, we were concerned that combining it with the sugary, buttery flavor of the corn might be slightly overwhelming. And we were right.

While it purports to be "jumbo-sized" ravioli, $14 only got us three (3) pieces. (Six (6) will run you $24), Even though the portioning came off a bit parsimonious, and the dish came out a bit "oilier" than we would have preferred, we still enjoyed this offering and scored it not-too-shabby "B-." (Well, at least it didn't shuck!)

Notice I spared you from an earful of corny puns?

.

.

.