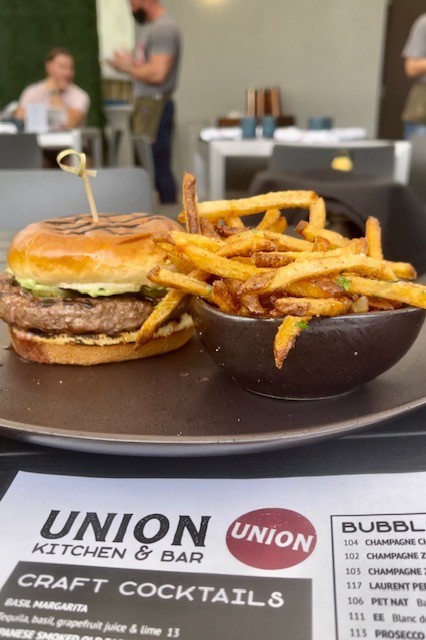 Next up at UNION RESTAURANT & BAR, a new "neighborhood eatery" located at 2309 N. Dixie Highway (Wilton Manors, Florida), was the UNION BURGER -- aged cheddar, caramelized onion, bacon & avocado cream ($17). [We got ours without bacon or cheese.]
While it's certainly disputed, some believe the first American hamburger was served back in 1895, at a sandwich shop in New Haven, Connecticut, owned by a guy named Louis Lassen. Because he didn't like to waste the excess meat from his steak sandwiches, Lassen reportedly ground that stuff up, grilled it, and served it between two slices of bread. It was such a hit, that the third and fourth generations of the Lassen family are still operating an establishment ("Louis' Lunch," 281 Crown Street) to this very day.
Now depending on who you ask, the "best" burgers (or, at least, the most "flavorful" ones) use ground beef that's about 80% lean, and 20% fat. But by no means is there a consensus on that. Chef Michael Mina – who heads a hospitality group with some forty restaurants across the globe (including "Bourbon Steak," "Bardot Brasserie," and "International Smoke") -- believes that a 75-25 meat-to-fat ratio is the "ideal."
If you use too little fat, the burger tends to dry out, which is precisely the issue we had with this offering at UNION. It wasn't juicy … at all. We found it dull, and uninspired. (The accompanying fries were also nondescript.)
While not the worst burger and fries we've ever had, they weren't among the best either. So, we weren't surprised when this dish narrowly escaped with a "B-." (It was only a point shy of a "C.")
Maybe this Union should strike this dish?
.
#restaurant #restaurants #food #foodie #foodies #foodreview #foodcritic #wiltonmanors #wiltonmanorsfood #unionkitchen #southflorida #southfloridafood #floridafood #italianfood #foodreviews #foodreviewer #fortlauderdale #meat #redmeat #burger #hamburger #burgers #choppedsteak #fortlauderdalefood #groundbeef #beefburger