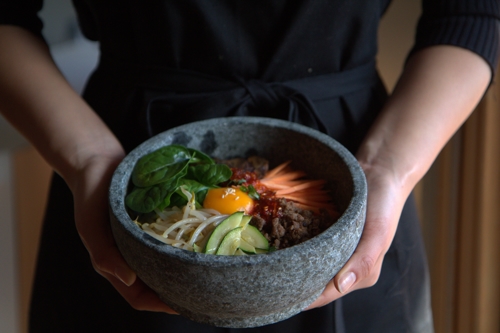 BIBIMBAP FOR ONE is an enchanting new story written by Daniel Kaszas, a young London-based writer and filmmaker.
His work was one of 85 submissions made to a film competition co-sponsored by Broken Flames Productions, which is headed by the multi-talented Ella Greenwood — a Forbes "30 Under 30" honoree.
Dan's winning screenplay explores such topics as depression and suicide, all centered around the loss of a loved one. He recently noted, "Sharing my stories, and listening to those of others, made me realize that what I was going through was a very human experience and that I wasn't alone."
And alone our protagonist is not, for in BIBIMBAP, "Hana" has a chance encounter with an elderly gentleman who inadvertently manages to change the course of the young woman's life.
This is a truly heart-warming, inspirational, piece, and I'm honored to help bring it to the screen. Filming is now underway, and Ella and her colleague, Maya Bartley O'Dea, were kind enough to send me these "behind-the-scenes" snippets from the set.
As you see from the clip, BIBIMBAP FOR ONE promises to be an exceptional production.
.
# # #
You can view a list of Lucas's other projects here: https://www.imdb.com/name/nm11739610/
# # #