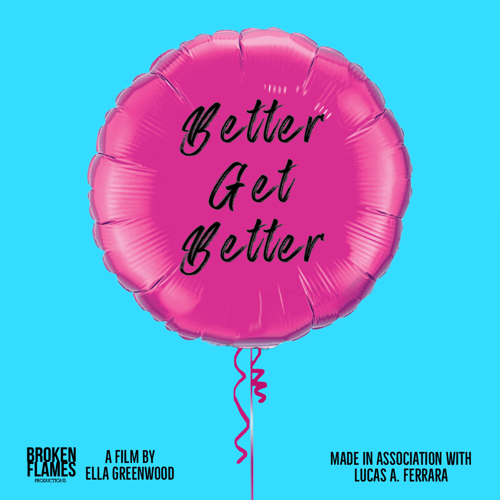 Elisha Applebaum -- best known for playing 'Musa' in the hit Netflix series 'Fate: The Winx Saga' -- stars in a new short film called 'Better Get Better' alongside newcomer, and upcoming RADA Graduate, Aliyah Odoffin.
Also featured are dancer and actress, Nikkita Chadha, and, Tiktok star and actress, Daisy Jelley.
Written and directed by Ella Greenwood, a 2021 Forbes "'30 Under 30 Honoree,'" the screenplay focuses on the societal perception differences between physical and mental-health challenges, and is next in a slate of mental-health based projects produced Broken Flames Productions.
'Better Get Better' follows on the heels of the acclaim and accolades received by 'Self-Charm,' which stars BAFTA Winner Bukky Bakray, 'Smudged Smile,' which features 'Get Even's' Mia McKenna-Bruce, and, 'Why Wouldn't I Be?,' which stars 'Doolittle's' Harry Collett and Elizabeth Berrington, known for 'In Bruges' (2008), 'Naked' (1993) and 'Scoop' (2006).
In this new film, we track two best friends, Scarlett (Aliyah Odoffin) and Freya (Elish Applebaum), who were practically inseparable until Scarlett broke her ankle and Freya started struggling with her mental health. Will the difference in how they're each treated by their friends and family irreversibly change their relationship?
To find out, you'll have to wait until the film is officially screened. In the meantime, check out this trailer which was released by Broken Flames, earlier today.
I'm sure you'll agree that a special shout-out to Ella, and the entire 'Better Get Better' team, is most certainly in order [their IG tags follow]:
Writer director: @popsella
Producers: @lucasaferrara @brokenflamespd
Assistant Producer: @maya_bod
Cast:
@aliy3ah
Editor: @editoremmalie
Composer: @gabyamblercomposer
Sound Designer: @_inesadriana_
Colourist: @chris.shaw.colour
DOP: @xeniaxpatricia
1st AC: @alexjgtan
2nd AC: @leslieliiin
1st AD: @rose_esme_lucas
Covid supervisor: @giorgia_neill
Runner: @jameslockheart_
Cast PA: @_bellaburns_
Costume: @torihitchens_costume
Gaffer: @et.ng_
MUA & hair: @morganemakeup11
Production designer: @ceciliahahaha
Art Assistants: @safitobi & Lucia Hartmann
Script supervisor: @sam_morris987
Sound Recordist: @adam_hurley
Spark: @_cemdemirer_
# # #
And with only days left to Elisha Applebaum's Kickstarter fundraising campaign, if you help her get her next film -- MAYWARD ROAD -- made, you'll score some really neat "perks" in the process. But time is running out!
To learn more visit:http://kck.st/3vEuxIi
# # #
# # #
You can view a list of Lucas's other projects here: https://www.imdb.com/name/nm11739610/