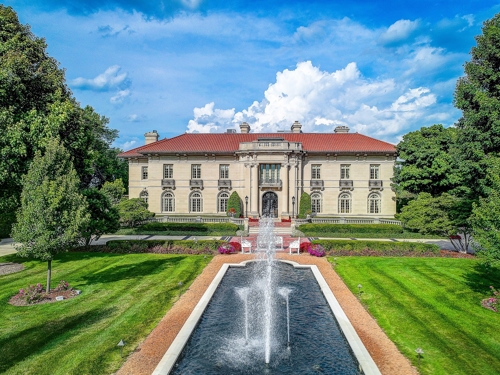 This House of Hops is Hopping
A Milwaukee mansion -- once home to the son of a famous beer baron – is now available for sale.
The Herman Uihlein House, one of the largest estates on Lake Michigan's Whitefish Bay, was built in 1917 for the heir to the Schlitz beer company, "the beer that made Milwaukee famous."
Known as the Beer Capital of the World, Milwaukee was once home to many of America's top ale distributors, including Pabst, Schlitz, Miller, and Blatz. Today, Miller (officially Molson Coors) employs over 1,500 people in Wisconsin and pumps out over 7 million barrels of beer per annum. While some larger distributors have left the Dairyland for greener pastures out west, Milwaukee hasn't forgotten its history. If you take a stroll downtown you can expect to come across the Pabst Mansion Museum, the Brewhouse Inn (a former ale distribution center converted into a boutique hotel), Schlitz Park, and, of course, Miller Park – home of MLB baseball team, the Milwaukee Brewers.
Perched atop a sprawling (perfectly manicured) three-acre parcel, the 13,717 sq. ft. "Gatsby-esque" residence is the product of unparalleled 20th century artisans and craftsmen. Sporting 9 bedrooms and 8 bathrooms, the home has undergone significant upgrades over the past few years, including a completely remodeled kitchen, new HVAC and boiler systems, as well as new surface materials. Just a few of the brew house highlights include a billiards room, fitness and gym center, library, home theater, wet bar, and a wine cellar. The entire flooring of the home (amounting to more than a quarter-acre of space) is composed of hardwood and marble -- which can be temperature controlled.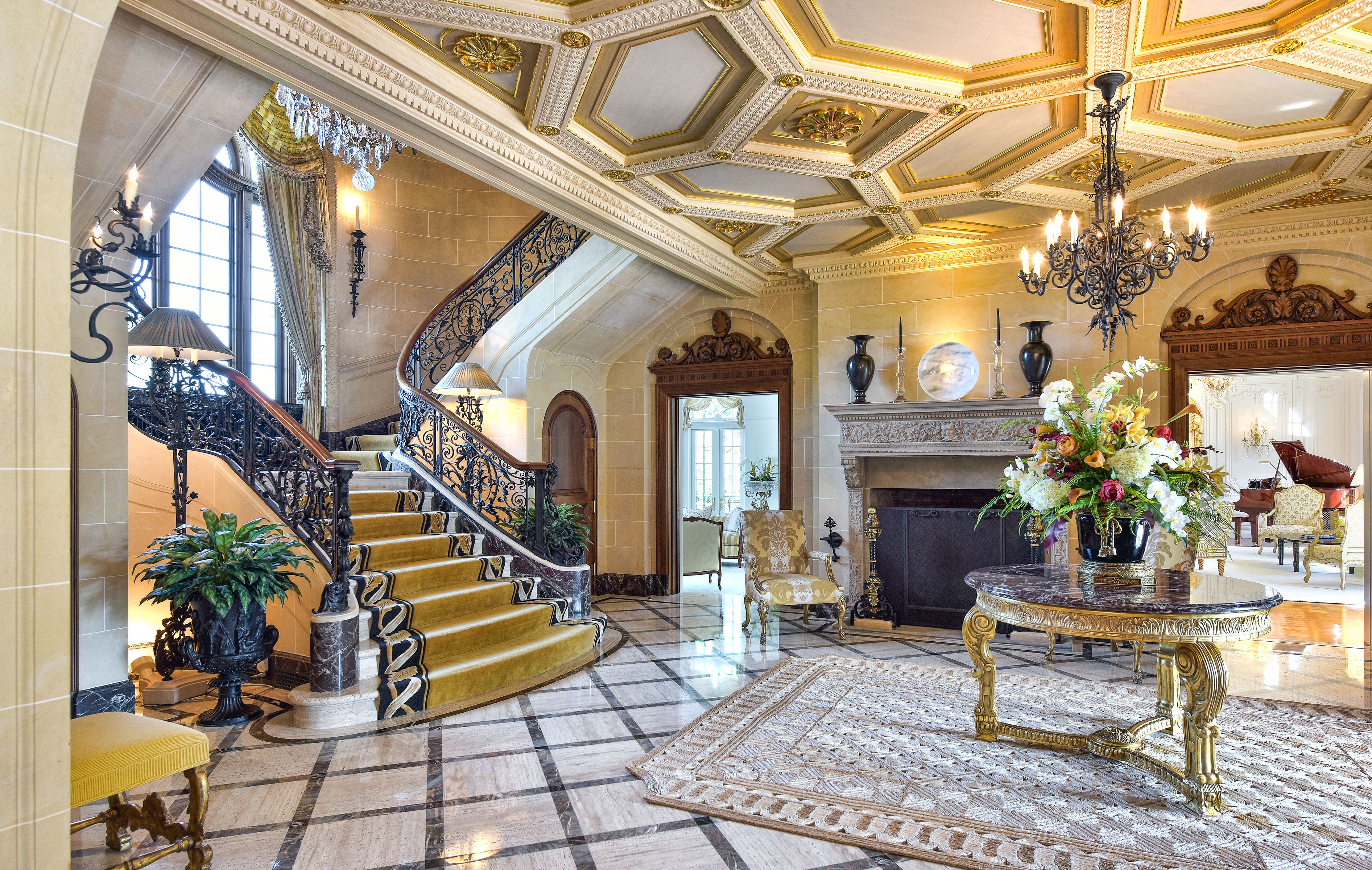 Placed on the National Register of Historic Places in 1983, the grounds of the Uihlein House are just as impressive. The landscape is symmetrical in form and the entrance presents a long reflecting pool leading to the front door. The rear of the property leads to a water's-edge view of Lake Michigan, with terraced walkways and carved steps descending into the Bay.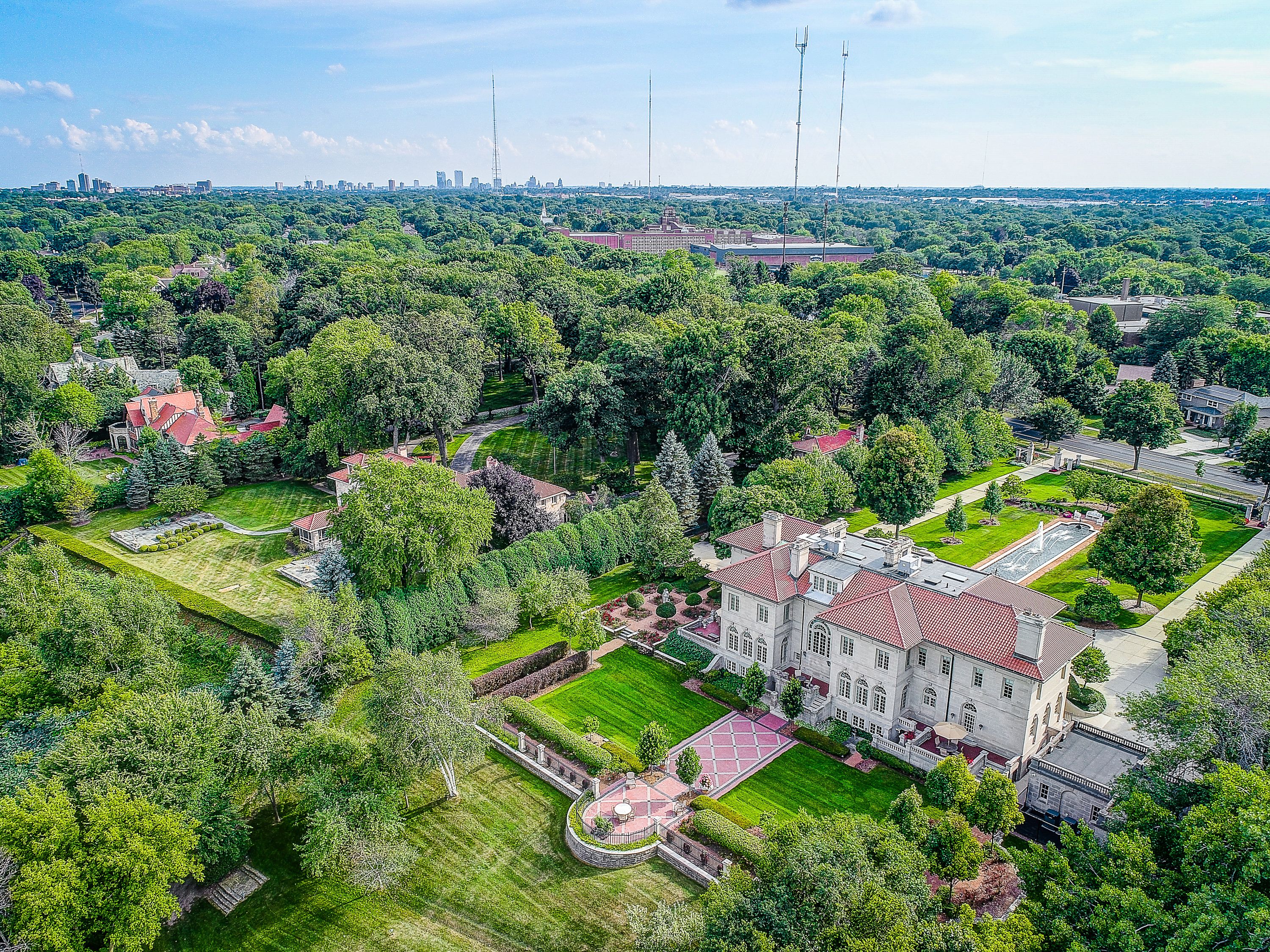 In addition to being the home of Schlitz's president and his family, the Uihlein House was also once home to Peter Buffet, son of billionaire Berkshire-Hathaway mogul, Warren Buffet. The mansion is said to be where Peter composed music for Kevin Costner's Oscar-winning film, Dances with Wolves.
Timothy William Sullivan, CEO of REV Group, has reportedly owned the not-so-humble abode since 2007 when he purchased it for $5 million. It was listed for a w(hopping) $10 million in 2019, however it has since been reduced to $6.95 million. Peter Mahler and Paul Handle of Mahler Sotheby's International Realty, Milwaukee, Wisconsin, currently hold the listing.
Be sure to crack open a few cold ones if you manage to scoop up this property.
Source: https://www.toptenrealestatedeals.com/weekly-ten-best-home-deals/home/exquisite-milwaukee-beer-mansion-for-sale
____
Credits:
Link to: https://www.toptenrealestatedeals.com/weekly-ten-best-home-deals/home/exquisite-milwaukee-beer-mansion-for-sale
Photos: https://www.dropbox.com/sh/8lryq83ge06893u/AAApd-6RQJYXsGKK6G17jfvFa?dl=0
YouTube: https://www.youtube.com/watch?v=qaEvFwDwXuQ
Photo Credit: VRX Media Group and Rangeline Photography
YouTube Credit: Sean Evans, @evvo1991 backtothemovies.com/
Source: TopTenRealEstateDeals.com