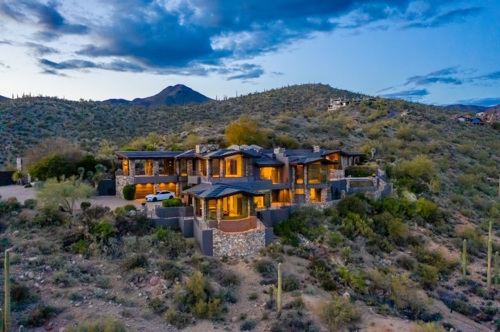 Hard to… Sell?
Searching for a luxury pad with incredible views but live in fear of the occasional contract-killing sniper? If so, we may the house just for you.
Steven Seagal, badass martial arts master turned actor, singer, and author, just re-listed his Scottsdale, Arizona home on Desert Mountain for $3.395 million – and it comes equipped with bulletproof windows.
Seagal, who has starred in a number of popular action flicks such as Hard to Kill, Under Siege, and Above the Law, started out as an instructor of the Japanese martial art of Aikido, owning the first dojo in America to teach the discipline. Now a 7th degree black belt, he's incorporated his skills into many of his "beat 'em up" brawler films. And after an illustrious career in the movies and on television, Seagal has turned his attention to environmental activism and animal rights protection, as well as his various real-estate holdings – including homes in Colorado, Los Angeles, Louisiana, and Russia.
Seagal's Scottsdale home measures over 8,000 square feet and sports four bedrooms and five baths, an eat-in chef's kitchen and dining terrace, and a large home theatre. The open concept plan definitely has good "Feng Shui," with many flexible-use rooms, an infinity pool and spa, as well as some life-sized Japanese statues greeting you at the entrance. (It's a good bet Seagal takes those with him, though). Adjacent to the home is a 600 square foot guest house with a full kitchen, living room, and bedroom suite; as well as a three-car garage.
But the real draw here is the hillside property's floor-to-ceiling picture windows -- presenting panoramic views of the cities of Phoenix, Scottsdale, and the desert valley from a height of 3,000 feet above sea level. There are also a few terraces (some covered, some open) from which you can enjoy the breathtaking scene. The windows are made of bulletproof material, and in combination with the home's location in the gated community of Carefree Ranch Homesteads, security is air-tight. The property measures over 12 acres, and is situated next to six signature golf courses, plus a new USGA-rated, par-54 course.
Purchased in 2010, Seagal's had some trouble finding the right buyer for his bulletproof fortress, however. Originally listing it in 2012 for $4.25 million, it has been on-and-off the market ever since. Perhaps Jean-Claude Van Damme might be interested? (Legend has it the two nearly got into a brawl during a party at Sylvester Stallone's house …. If that confrontation had happened, many fans may have finally gotten an answer as to which 90's tough guy reigned supreme. However, at age 69, Seagal's fighting days may now be over.)
Julianna Eriksen and Bob Nathan of Engel & Völkers currently hold the listing on the home.
----
Link to: https://www.toptenrealestatedeals.com/weekly-ten-best-home-deals/home/steven-seagals-bulletproof-home-for-sale
Photos: https://www.dropbox.com/sh/299hkew292wi7to/AAAiuk1itLHm2Ot2bWv_c-_Sa?dl=0
YouTube: https://youtu.be/bYKO-Um-YUo
Photo Credit: Engel & Völkers
YouTube Credit: Sean Evans, @evvo1991 backtothemovies.com/
Source: TopTenRealEstateDeals.com