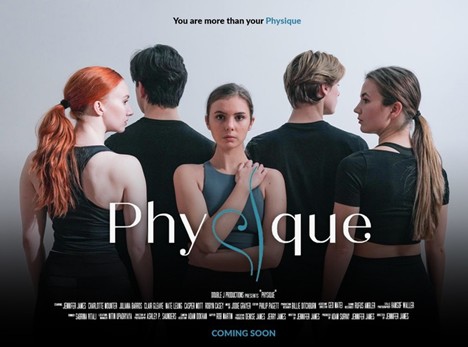 According to available statistics, eating disorders impact about 9% of the world's population – including some 28.8 million Americans (of all races, ages, colors, creeds, gender identities and sexual orientations).
The Mayo Clinic advises that the manifestations – like anorexia nervosa, bulimia nervosa and binge-eating disorder – stem from a hyper focus on food, body weight and one's shape. And that the consequences of that obsession are quite considerable, with 26% of those impacted likely to attempt suicide, and 10,200 deaths reported each and every year.
"Physique," a new short, written and directed by Jennifer James, seeks to confront this health crisis head-on by furthering public knowledge and awareness. In her film, we follow a teenage dancer who struggles with self-perception and self-acceptance to the point of near destruction.
Jennifer, who was diagnosed with anorexia at the age of 17, would like viewers to appreciate that life isn't about being the "right" size, or having a certain appearance or "look," it's about being true to who we each are.
To help get this ambitious project completed, the team initiated a crowdfunding campaign which has already surpassed its original goal. But to further improve its quality, and expand its reach, a "stretch goal" of 2000 BP (about $2800 US) has been set, and they're currently about $800 (about 577 BP) short.
In exchange for your contribution to this cause, you can select from an array of "perks," which include a social media shout-out, a digital copy of the film, a t-shirt, signed poster, behind-the-scenes footage, Zoom call with the writer/director, and/or special acknowledgment in the end credits.
To learn more, please visit: http://kck.st/3cCCF2J​
Ironically, you can help promote self-love, by supporting this "Physique."