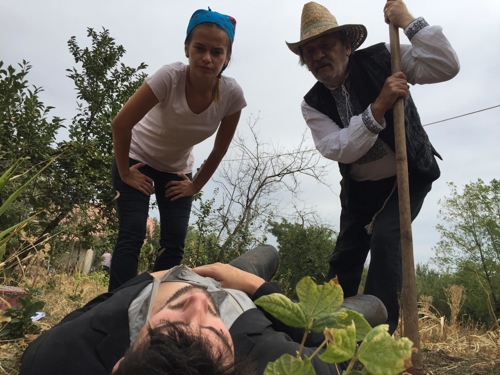 When I asked director Sylvestre Bary to describe "In Vino Veritas," his latest film project, he quickly exclaimed, "It's like a vaccine against morosity!"
As a French foreign student, living in Romania, Bary quickly become enamored with his new homeland, and noted that many of the locals became his dearest friends ... "and even more," he coyly added.
And why a movie, you ask? Well, Bary believes it's a small way of "giving back." A thank you to the Romanian people, and an attempt to strengthen their ties with France.
In this story, Hervé, our Parisian protagonist, awakens from a drunken stupor only to find himself lost in an entirely different country. While not remembering how he landed in a foreign nation, Hervé's path home affords us a "comical, offbeat and moving road trip."
Unfortunately, road trips don't come cheap – particularly now, in the midst of a pandemic. And to help raise needed funds, the creative team has started a crowdfunding campaign where in exchange for a contribution you can receive such goodies as a t-shirt, a signed poster, early access to the film (and a DVD/BluRay copy), view behind-the-scenes footage, to scoring a special acknowledgment in the end credits.
To learn more, please visit: http://kck.st/3u159Li
If, like me, you speak candidly when under the affluence of incohol, then how about joining me in giving a toast ... and a few bucks ... to "In Vino Veritas?"
To check out some of Lucas's other projects, please visit: https://www.imdb.me/lucasaferrara