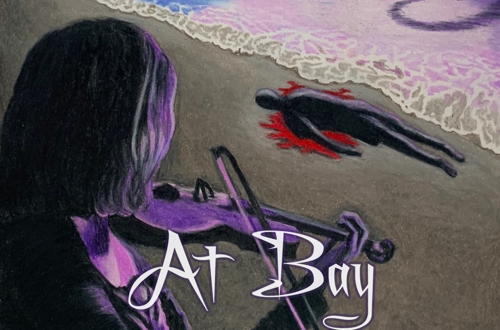 Howard Phillips Lovecraft -- a horror fiction writer who died in poverty at the age of 46 -- is now widely regard as an extremely prominent and influential author of the genre. Some of the themes you will find addressed in his works include, fate and inevitability, religion and superstition, mental illness and madness, and the dangers of scientific discoveries.
"At Bay," a short film, written and directed by Mason Campbell, is loosely based on Lovecraft's short story, "The Music of Erich Zann." In Mason's version, our protagonist (Erika) spends her days playing her violin in the streets for spare change, and nights warding off an "otherworldly" entity. To add to the eeriness, the film will include no dialogue or sound effects, but will feature a totally original score.
When asked why he wanted to release this film in the midst of a global pandemic, Mason responded, "I believe the themes of isolation and routine are very pertinent right now. Like many artists, I've spent the last year sitting inside, putting hours upon hours into projects that may never see the light of day. Being able to tell this story not only relieves that anxiety but relates to it as well."
Raising funds for films can also be anxiety-ridden, yet this particular team has performed quite impressively; exceeding its initial fundraising goal of $1000. Of course, additional funds would help improve the quality of the project and expand its reach. To that end, the creatives are offering contributors an array of "perks" including, early screening of the film, a sticker pack (of pivotal scenes), an official poster and t-shirt, copies of the screenplay and storyboard, to status as "Executive Producer" or other acknowledgement in the end credits.
To learn more, please visit: https://igg.me/at/-8ngEP8kqjM/x#/
Its name notwithstanding, kindly refraining from keeping at bay … and join me in supporting this ambitious endeavor.