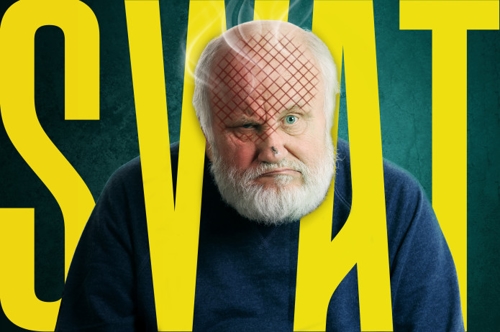 According to online sources, the pesky housefly typically has a lifespan of about 15 to 30 days; depending on a number of factors including environmental conditions.
But oftentimes these uninvited house-guests prove to be such an annoyance, that many of us will refuse to wait it out -- and we'll attempt to expedite that time-frame just a tad.
Well, that's the premise of SWAT, a new comedy written and directed by Sam Coombes, a filmmaker based out of Bristol, United Kingdom. In this short, we witness an elderly man going to considerable lengths to get rid of a peeving pest -- including damaging his personal property and risking grave personal injury. As Sam puts it, it's "an explosive territorial brawl between man and beast."
Who'll win this battle? To find out, you'll need to help Sam get this film made. And to that end, he's started a crowdfunding campaign where you can score such perks as an acknowledgment on social media, storyboard frames signed by the cast and crew, behind-the-scenes photos and video, a virtual screening and Q&A, film props, tickets to a festival screening, your name in the end credits, to having your face appear in the body of the film.
And, get this: Over the next three days, every contribution to this exciting project will be matched by an anonymous donor, DOUBLING every pledge made!
To learn more, visit: https://igg.me/at/SWAT-short/x#/
Be more than just a fly on the wall!
Step up and join our SWAT team!