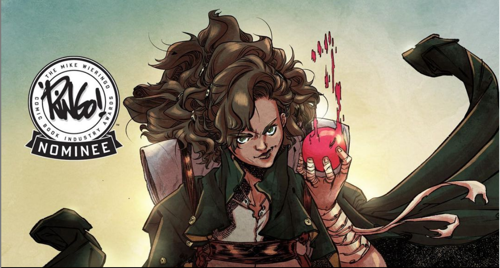 Are you obsessed with your physical appearance?
If so, you may be suffering from "Snow White Syndrome" –- which is often described as a distorted self-image we may have of ourselves, particularly if we fear aging, or are unable to accept the natural "wear and wear" on our bodies over time.
How do we overcome that dysfunction? Well, some experts suggest that we work on "self-knowledge," "self-acceptance," and on "self-concept improvement."
My recommendation? Flush your traditional notions of "Snow White" down the toilet, and sign up for Brenton Lengel's critically acclaimed comic book series, "SNOW WHITE ZOMBIE APOCALYPSE," (or "SWZA," for short).
A "brutal, bloody, and badass mashup of fairy tale magic and undead horror," this comic is certain to cure all ills. In this twisted story, our young heroine awakens from a deep sleep to learn that the seven dwarfs are long dead, and that she's trapped in the midst of world filled with all sorts of evil creatures, including a ravenous pack of half-human zombie wolves.
Lengel describes it as a story of "deep woods and old magic mixed with a health dollop of blood, sex, kung fu, and gender politics …. Way more than zombies and fairy tales, as usual."
Enticed? Well then head on over to the project's crowdfunding page, where in exchange for your contribution, you can score such goodies as a limited edition postcard, a printed copy of book # 3, a link to over 126 pages of digital content, variant covers, signed copies of the various print editions, original print(s), get a one-time cameo, become a recurring character in the series, or attend a masterclass with Lengel (where he help develop your play, screenplay, comic script or other creative work).
To learn more, visit: http://kck.st/3xmELMP
As Snow White once wisely said, "Come on, perk up!"
Join the SWZA journey, before it's the end … of us all.
If you'd like more information about Brenton, check out his Linktree.
To learn more about some of Lucas's other projects, check out his IMDb page.