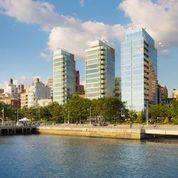 IT CAN BE YOURS FOR $9.95MM
A luxurious condo in the West Village has just hit the market, and the seller is none other than: Ian Schrager, one of New York's original party animals, and co-owner and creator of Studio 54 (NYC's hottest 70's nightclub). His three-bedroom, five-bathroom apartment on Perry Street, is currently available for $9.95 million.
In a stroke of genius, Schrager and longtime business partner, Steve Rubell, designed Studio 54 out of an old CBS news building back in 1977. The nightclub instantly became a hit, largely due to its exclusive guest list and Draconian subjectivity at the entrance. Would-be partiers stood for hours on end outside the hotspot on 54th St. and Broadway for an opportunity to brush shoulders with the likes of such celebrities as Michael Jackson, Freddy Mercury, Cher, Mick Jagger and Rick James, among many others.
Alas, Studio 54's success didn't last long, however. Because when you own the hottest disco scene in New York, inevitably drugs, money, and other temptations soon follow -- which isn't a sustainable business model once the IRS and DEA start snooping around. Only a year after its opening, the nightclub came under investigation after Rubell noted in an interview that the club had raked in more than $7 million in its first year and that "only the Mafia made more money." Rivaling the devastation of Lennon's "we're bigger than Jesus" line, this all but sealed the duo's fate. After the IRS uncovered that the pair had skimmed around $2 million from the hotspot (in addition to the substantiated rumors that the club was an open-air drug bazaar), the hammer of justice swiftly came down, forcing the doors to close. And after Schrager served some jail time, he became a prominent NYC developer and secured a pardon from then-president Obama.
Now, the 71-year-old party icon is moving on from his 3,785 square-foot Meatpacking District pad – which comes with a 10-foot-high "great room" sporting panoramic views of the Hudson River and Jersey skyline. The master suite includes a spa bathroom with a deep "soaking" tub and spa shower, walk-in closets, and a full balcony. Located a stone's throw away from Highline Park, the Whitney Museum, and Bleeker Street's eclectic restaurant/bar scene, the building (designed by Pritzker Prize-winning architect Richard Meier) has been home to some other notables a well, including Nicole Kidman and Calvin Klein -- the latter being a frequent patron of Studio 54 in its heyday.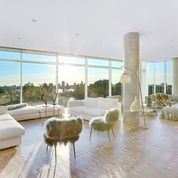 Madeline Hult Elghanayan and Dennis Mangone of Douglas Elliman currently hold the listing.
----
Link to: https://www.toptenrealestatedeals.com/weekly-ten-best-home-deals/home/studio-54s-ian-schrager-lists-west-village-apartment
Photos: https://www.dropbox.com/sh/pj9z5h76vs7o6jw/AAAmStnIodAfM8XwqdrEOOEka?dl=0
YouTube: https://youtu.be/F0sbXpclBLw
Photo Credit: Douglas Elliman
YouTube Credit: Sean Evans, @evvo1991 backtothemovies.com/
Source: TopTenRealEstateDeals.com