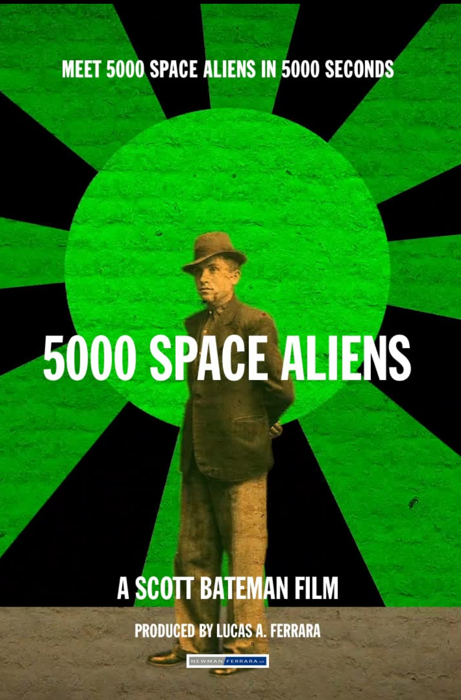 Into aliens?
According to experts, if you believe in UFOs and extraterrestrial beings, you're not alone.
Since more than half of American adults, and some 60 percent of younger Americans, share that belief, you're actually in pretty good company. In fact, that "popularity" equates to a kind of religion, as those statistics track the number of people who happen to believe in a Divinity or God
If you're ready to go where no "person" has gone before, check out the trailer of Scott Bateman's new film, 5000 SPACE ALIENS – which Scott describes as "5000 seconds -- that's 83 minutes – of fun."
Be forewarned: This is not your typical movie, by any means. But Scott's creative utilization of music, computer-manipulated found footage, and collage, offers viewers a unique and entertaining sensory experience. (In acknowledgment of his outstanding achievement, the project was awarded "Official Selection" laurels by the Oxford Film Festival (2021), the South Texas Underground Film Festival (2021), and the Bright International Film Festival (2021).)
Scott – who hails from New York's Hudson Valley -- has directed The Bateman Lectures on Depression (2018), and You Your Brain & You (2015). He also wrote the humor book Disalmanac: A Book of Fact-Like Facts (Penguin/TarcherPerigee, 2013), was a one-day Jeopardy! champion, and, won $100,000 (and a cruise) on Who Wants To Be a Millionaire.
If you're ready for your encounter, visit: https://5000spacealiens.com/ (If you dare.)
To check out some of Lucas's other projects, click: https://www.imdb.me/lucasaferrara