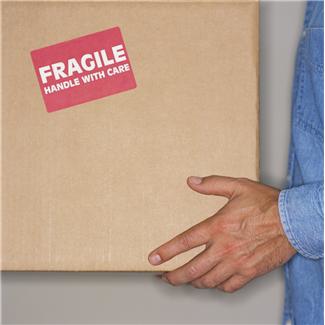 Packages are flying!
Have you ever found yourself staring at all those boxes in front of your door and wondering how they arrived so quickly?
Most would agree that since the pandemic (and even prior) parcel delivery services have ramped up their operations and have quite effectively met the booming demand for online orders and deliveries. To understand how a package from California can arrive at your home in New York in under 48 hours, one must appreciate the critical role that airports play in that journey.
It's no surprise that since COVID-19, passenger traffic on airlines has substantially dropped -- about 60%. People are staying home, avoiding travel and vacations, and weathering the storm until the virus is contained. However, air-cargo transport -- those large FedEx planes you'd often see out on the tarmac while you're waiting for takeoff -- hit record numbers last year.
The Cincinnati/Northern Kentucky International Airport (CVG) -- the nation's 6th largest -- moves nearly 4,000 tons of cargo per day, with its load increasing 14% in 2020, with estimates for similar growth in 2021 and 2022. A large portion of this daily freight is attributable to eCommerce behemoths such as Amazon, which is now constructing an 800,000 square foot sorting center at the airport to accommodate 20 new Amazon planes. (That's about 18 acres of warehouse space.)
"This hub is going to let us to get packages to customers faster," explained Amazon founder, Jeff Bezos, during the groundbreaking ceremony at CVG airport, "That's a big deal." For now, Amazon is the leader in new airport cargo construction. In the last decade, Amazon has put more than $15 billion dollars into Kentucky, with the majority going towards its fulfillment centers at or around the airport. The hub under construction at CVG will create 2,000 new jobs.
Amazon Air, the company's air transport network, now sports a fleet of 70 monster planes which make hundreds of daily flights across the United States. Just recently, Amazon acquired a Boeing 767-300 aircraft to expand its cargo fleet (a 767 typically accommodates 216 passengers).
Other major parcel services and airports are also expanding their air cargo operations. Chicago Rockford International Airport is constructing two cargo facilities, both around 100,000 square feet, to accommodate international logistics companies that utilize the facilities. FedEx also announced that it has constructed a 250,000 square foot sorting facility in Southern California's Ontario International Airport, with new space that will be able to churn out some 12,000 packages an hour. FedEx is still the world's largest air cargo provider, transporting an average of 6.2 million packages per day. UPS, another major carrier, has set its sights on older, decommissioned buildings at Kentucky's CVG airport. Mark Thorpe, the airport's chief executive, realizes the effect COVID has played on parcel delivery services and their need to adapt to meet the demand, "There is a lot of consumer behavior that permanently changed in 2020…We're seeing levels of cargo today that were expected in 2028."
As package delivery services continue to evolve, and respond to the growing demand, the key players certainly seem to be handling the load, just fine.