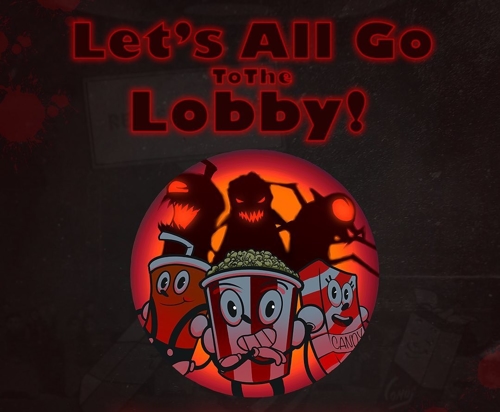 Back in the good old days, when people actually went to a movie theatre to see a film, the features usually had an intermission (around the mid-point). And just when that was about to occur, a cartoon would suddenly appear on the screen, and the following song could be heard:
"Let'sall go to the lobby. Let's all go to the lobby. Let's all go to the lobby. And get ourselves a treat. Delicious things to eat. The popcorn can't be beat …."
Some found the animated spot extremely eerie; others were all too easily induced to spend their hard-earned cash on pure garbage; junk food; trash. It was as if they were under some sort of evil spell as they overwhelmed the snack counter for processed consumables.
That eeriness and weirdness are at the heart of a new film, called "Let's All Go To The Lobby!," written and directed by Nolan Barth. In it, a disillusioned theater worker must fight for her life when a cursed film reel brings all the counter snacks to life. Barth notes, "Movie theaters are full of magic. The main goal of this short film is to capture that spirit and all the wonders and terrors that lurk inside."
What's particularly scary these days is raising money for independent films. That's why the team has resorted to a crowdfunding campaign where you can seize such "bennies" as a social media shout-out, a digital poster, a virtual viewing of the film, some behind-the-scenes footage, a cast and crew thank you video, and acknowledgments in the end credits.
For additional information, visit: https://www.kickstarter.com/projects/williamlewis/lets-all-go-to-the-lobby
It would be terribly dark and ghoulish to deny these kids your support.
Music credit: "Snyth," by Squirre Truck; "Tracker," by Christoffer Moe Ditlevsen