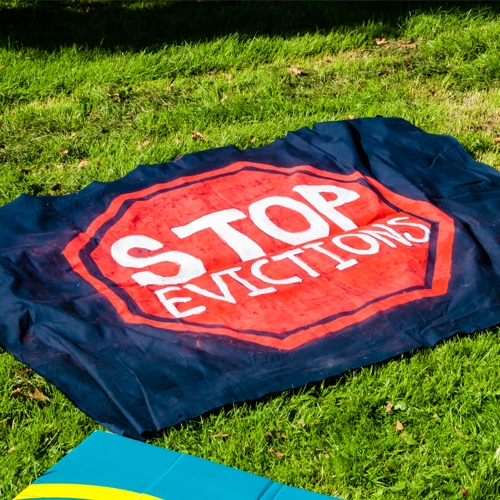 Lawsuit claims that renters are left vulnerable to eviction.
As reported last month, the New York State shut down its Emergency Rental Assistance Program (ERAP) application portal and refused to accept any new applications -- claiming that its $2.4 billion fund had run out of cash. (Although the state has requested another $996 million to pay existing applicants, Washington is yet to make a decision on those new disbursements.)
The lawsuit filed by tenant- and housing- groups seeks to force the state reopen the ERAP and continue accepting applications until "all potential sources of funds" have been exhausted. The plaintiffs argue that the decision made by Gov. Kathy Hochul's administration has left many tenants and property owners with no relief or recourse—particularly at a time when the state's eviction protections are set to expire in just a few weeks.
The program originally afforded tenants a unique protection, whereby landlords were prohibited from evicting renters who had submitted ERAP applications—even when those applications were pending review. The lawsuit alleges that, by closing the door on new applications, the administration removed one of the key protections against eviction in a state with one of the highest number of renters. What further exacerbates the issue, according to the plaintiffs, is that the state moratorium is scheduled to expire January 15, 2022. If the application portal is not reopened, people who have not yet applied, but are behind on rent, may potentially be kicked out of their homes, come January—and that is particularly concerning as New York and the nation continues to grapple with a surge in Omicron-caused coronavirus cases.
"It's an easy thing for them to do, at no cost to themselves, and will help a lot of people," said Edward Josephson, supervising attorney of the tenant group's law reform unit. State officials, on the other hand, declined to comment on the pending litigation.
SOURCE (SUBSCRIPTION MAY BE REQUIRED) - https://www.nytimes.com/2021/12/14/nyregion/new-york-covid-rent-relief-lawsuit.html
.
.
.
Photo credit: Abdul_Shakoor (via Shutterstock)