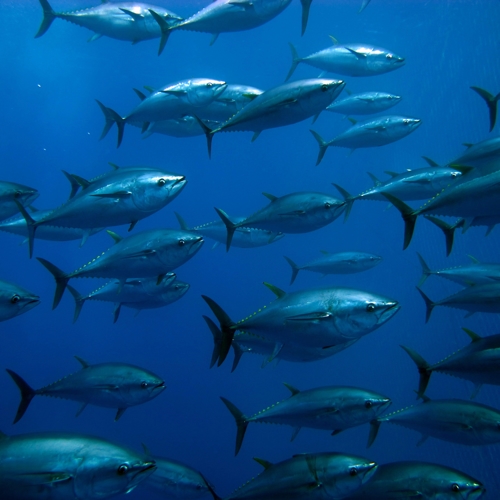 Chef David Bouhadana or "Chef Bou," as he's affectionately called, has a bunch of boutiquey "Sushi by Bou" locations in Chicago, Jersey City, Miami (Versace Mansion), New York, and Pompano Beach. We also discovered that he's got another offshoot, called "SUNSET SUSHI," located at 2433 N Federal Hwy, in Boca Raton, Florida – which is precisely where we recently landed.
Upon entering -- by appointment only -- you'll find an intimate 8-seat counter, where you'll experience a 15-17 course "Omakase" (over a two-hour period). Now be forewarned, the experience is not cheap, with the base cost starting at $150 per person, and that does not include any a la carte items you may order, beverages, taxes, or gratuities. So the check will add up considerably, particularly if you order some booze. But if you have a special occasion and/or the cash to burn, the experience is certainly worthwhile.
First up, was "Bluefin Tuna." Now, according to the experts, these creatures are among the largest species in the mackerel family and are the ocean's fastest and strongest predators. These torpedo-shaped fish are pretty massive, too — with weights of up to 2000 pounds (900 kg) and lengths of about 15 feet (4.6 m). At the restaurant, the piece we each received, was supposedly flown in from Japan, and had an extremely rich taste and buttery texture. The taste sensations were immensely enjoyable. (It was neither too salty or too sweet. It was just right.)
Because we enjoyed every bit of this first course, including the theatricality of the presentation, we rated this item an A-. Points were deducted because of the total cost of the experience, after you factor in all the extras. It's quite high. But that shouldn't necessarily dissuade you. ▫️ If you can afford it, head on over to Sunset Sushi before your sun has set.
.
.
#sushi #tuna #maguro #bluefintuna #omakase #sushirestaurant #japaneserestaurant #japanesefood #rawfish #fish #mackerel #diningout #bocaraton #bocarataonrestaurant #bocafood #southfloridafood #southfloridarestaurant #southfloridarestaurants