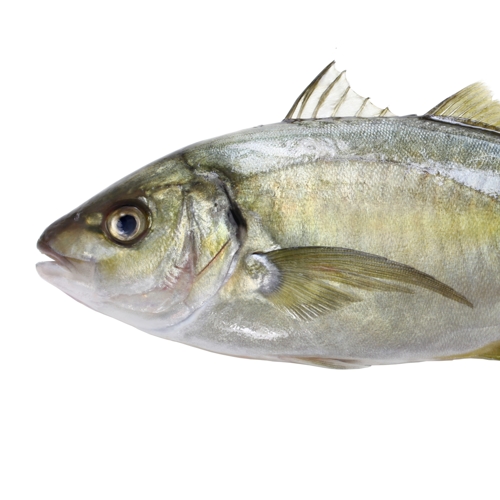 Chef David Bouhadana or "Chef Bou," as he's affectionately known, has a place called "SUNSET SUSHI," located at 2433 N Federal Hwy, in Boca Raton, and we happened to find ourselves parked at a sushi counter partaking of his version of an "omakase" [お任せ] -- which consists of some 15-17 courses selected by the house and served over a two-hour period. (But, as we have warned, this experience will minimally run you about $150 per person before any extras, like tax, tip and any a la carte items you may order. So, it ain't for the cost conscious or the miserly.)
For our third course, we were offered pieces of "Striped Jack," which is also known as "Shima-aji." This fish can be found in the Atlantic, Indian and Pacific Oceans; and in Japan, they are caught in shallow water (about 650 beneath the surface). Silver colored and oblong in shape, these carnivores eat crustaceans, mollusks, prawns, shrimp and small invertebrates, and can weigh up to 70.5 pounds (32 kg) and get up to 30 feet long (76.2 cm). And when they're not being served up for dinner, they have a life expectancy of up to 17 years.
Not only is this fish packed with protein and vitamins (A, B-6, B-12, D, E, K), along with niacin, riboflavin and thiamin, but it's quite delicious to boot. We found it light, tender, buttery-sweet, with a touch of fat that greatly enhanced the overall taste sensations. Even though we enjoyed it, this course – much like the others -- lost points because of the underlying price tag, yet still landed a pretty impressive "A-."
Before riding off into the sunset this holiday season, head on over to Sunset Sushi in Boca Raton.
#lucasaferrara #sushi #aji #stripedjack #shimaaji #omakase #sushirestaurant #japaneserestaurant #japanesefood #rawfish #fish #seafood #diningout #bocaraton #bocarataonrestaurant #bocafood #southfloridafood #southfloridarestaurants #diningout #eatingout #foodreview #foodcritic #foodie #foodies #food