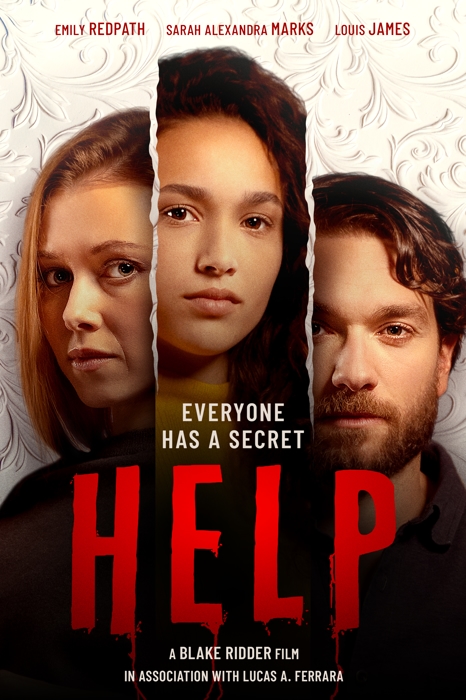 FIRST LOOK AT POSTER AND TRAILER FOR MULTI AWARD-WINNING PSYCHOLOGICAL THRILLER
Available for digital download starting February 15, 2022.
Starring: Louis James, Emily Redpath, Sarah Alexandra Marks & Duncan James
Blake Ridder, Louis James and I are delighted to share the new trailer and poster for our award-winning psychological thriller HELP, which will be available via digital download in the UK, USA, and Canada as of the 15th February, (14th February on UK iTunes), 2022.
HELP was filmed over just 12 days in the midst of the COVID-19 pandemic. Due to the UK's severe lock-down restrictions, only twenty cast and crew members were involved in the making of the feature. Given the hurdles that then existed, HELP is a true testament to the team's dedication and ability to produce a high-quality movie during such a trying, turbulent time.
In a nutshell, here's the premise: A painful break up prompts Grace to visit her friend, Liv, who is living in the idyllic English countryside with her boyfriend, Edward, and his dog, Polly. The weekend begins on a high note, but things soon devolve into chaos, as well-kept secrets are exposed and the trio comes to see each other in a whole new light. (After all, we all harbor a deep, dark, secret ....)
HELP boasts an impressive lineup of promising actors, including Louis James (The English Teacher, A Simple Robbery), Emily Redpath (Romeo and Juliet, Casualty), Sarah Alexandra Marks (Glamour, Psychosis), and a cameo Blue's very own, Duncan James.
With a plot as dark as HELP's, you might not expect to see a cameo by the former boy-band member, but the unlikely pairing came about organically. "I met Louis whilst filming in Liverpool, a mutual friend introduced us, and we immediately struck up a friendship," explains Duncan James. "His passion was palpable and there was a lot of mutual respect. I watched his performance in a few of Ridder's short films, such as 'The English Teacher' and 'A Simple Robbery' and thought he was great, so I wanted to support him and be involved in his next project."
Check out the trailer below!
"The suspense and tension build up more and more, until things finally culminate in a heart-stopping climax."
☆☆☆☆
UK Film Review
# # #
Director Blake Ridder said: "No matter how hard we try, no one is perfect. We all have our own issues and help that we seek for. Especially in our personal relationships, much like the characters in this film. During the UK's first lock-down in March 2020, it pushed me to create even more short films than I ever did before. Of course, with each film you make, it teaches you something, you learn from your mistakes and understand what really captures the audience through my storytelling. Which ultimately made me decide it was time to make my debut feature film."
Producer Louis James added: "As the script was developed I could sense from the early stages he was crafting something unique. Coming onboard as Producer I knew I would I have to match Blake's machine like work ethic. I got to work immediately assembling a strong cast and crew to lift his story off of the page. We worked closely together to make sure our visions for the production were kept aligned each step of the way."
# # #
HELP will be available for digital download beginning on Valentine's Day.  (Watch it with a loved one.  (Then again, maybe you shouldn't ....))
###
You can view a list of Lucas's other projects here: https://www.imdb.com/name/nm11739610/
###