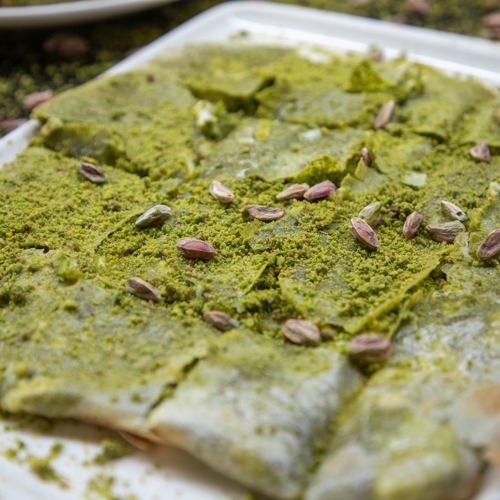 Pistachios, cashews, and mangoes all happen to belong to the "Anacardiaceae" family, and are thus "botanically related." (There's also a nexus to poison ivy, poison oak, sumac, and Peruvian pepper. (But I digress.))
According to the U.S.D.A, pistachios are nutrient rich and offer more than thirty different vitamins, minerals, and phytonutrients, including significant amounts of vitamin B6, magnesium, phosphorus, potassium, and thiamin. And due to the presence of lutein and zeaxanthin, these nuts are supposedly great for eye health and disease prevention, among other benefits.
Native to Central Asia, including modern-day Iran and Afghanistan, the use of pistachios as a food has been traced back to 6750 BC. Fast forward a bit, and more than 550 million pounds of that nut are grown in California, each year, making the USA the second leading producer. (Iran holds the #1 spot.)
Since there were only two desserts —Baklava ($6.95) and Katmer ($8.95) — on the menu at GALATA, an informal "Kabob & Pide House," located 1350 South Pompano Parkway, in Pompano Beach (Florida), we decided to go for the Katmer, which you won't find on a lot of restaurant menus. (It's a "flaky" pastry, prepared very similarly to baklava, and is made with generous amounts of oil and butter.)
Typically, the crispy phyllo dough is covered in ground pistachios, with the interior offering more granulated nuts and clotted cream. While we were expecting a crunchy carpet of lush-green deliciousness, our dish looked (and tasted) like dried-out sheets of cardboard. And since none of us suffer from "Xylophagia" – an eating disorder which involves the consumption of paper – we unanimously scored this dastardly dull dessert an "F."
We see no need to paper this any further. Do you?
.
.
#turkishfood #turkishrestaurant #food #foodie #foodies #foodreview #restaurant #restaurants #phyllodough #southfloridafood #dessert #desserts #southfloridarestaurants #katmer #southfloridarestaurant #turkishgrocery #diner #southfloridafoodie #foodcritic #halal #halalfood #halalrestaurant #phyllo