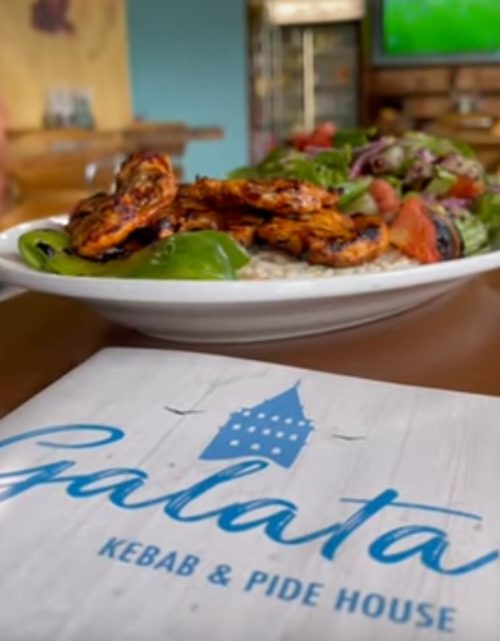 There are different variations of a "kebab" – which is a Turkish word meaning "to roast" or "roasted" – and it usually refers to a meat dish. In some countries, it consists of small cubes of meat cooked on a skewer, while elsewhere you'll find an array of grilled proteins. The "traditional" kebabs use mutton or lamb, but you'll also find beef, goat, and even fish.
Food historians believe that the practice of cooking meat on a stick can be traced back to prehistoric times, when humans first began using fire. And given that the earliest written reference is said to be a Turkish text, called "The Story of Joseph: Kyssa-i Yusuf," from around 1377, it's a food item with a notable past.
So, while we were at GALATA, an informal "Kebab & Pide House," located 1350 South Pompano Parkway, in Pompano Beach (Florida), when my friends wanted to order the Chicken Shish Kebab – marinated grilled chicken, salad, rice ($17.95) – I didn't give them much resistance.
The biggest problem with this particular dish is that it's often high in calories, sodium, and fat – causing it to be described as a "ticking timebomb." Some nutritionists claim that if you were to eat just two of these meals a week, you'd likely suffer a heart attack in about a decade. If you're intent on committing "kebab-o-cide," you might as well do it over something that's exceedingly good. But what we got wasn't "self-destruction worthy." Rather than come out moist and tender, we found the chicken greasier, saltier, and the interior drier, than we would have preferred. Yet, this dish still ended up with an exceedingly generous "B-."
At $17.95 BEFORE tax and tip, I disagreed with the scoring here. And if left to my own devices, would have totally skewered this dish ….
.
.
#turkishfood #turkishrestaurant #food #foodie #foodies #foodreview #galata #restaurant #restaurants #halalfood #southfloridafood #southfloridafoodies #southfloridarestaurant #turkishgrocery #diner #pompanofood #kabob #halal #pompanorestaurant #foodcritic #kebab #chicken #meat #whitemeat #chickenkebab #poultry #shishkabobs #shishkebab #halalrestaurant