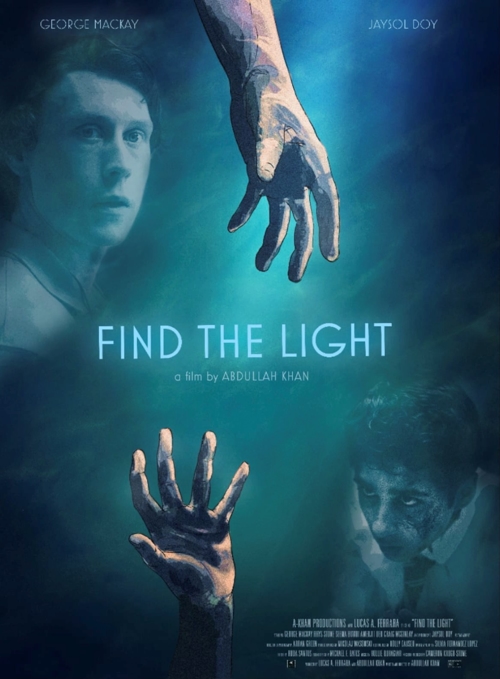 Written and directed by Abdullah Khan, FIND THE LIGHT is a new film which stars GEORGE MACKAY ("1917"), CRAIG MCGINLAY ("King Arthur"), RHYS STONE, SEEMA BOWRI, AMERJIT DEU, and introduces 16-year-old JAYSOL DOL.
▫️
As we prepare for festival screenings across the globe, Abdullah wanted me to share the official poster with you. While I can't reveal the plot or storyline (until it's released), rest assured, this is a riveting drama that will tug at your heartstrings.
▫️
Since many helped get us to the finish line, I wanted to acknowledge our team members' contributions. As the saying goes, while teamwork divides the tasks, it multiplies the success. Thanks to their unwavering hard work and dedication, this film is destined to be immensely successful.
▫️
Together, we will FIND THE LIGHT.
.
.
.
Written, Produced & Directed by: @abs1999k
Executive Producer: @cameronkroghstone
Associate Producer: @motionhead
▫️
Starring: #georgemackay @jaysoldoy @rhys_stone3 @craigmcginlay @seemabowri @amerjitdeu @keenanmunn @spencerallum1997 @_harryjmiller_ fin.vl @bengonzalesmt @sarahlilymua @lukanotwithac @_kyletaylor06_ @justjuwayriyya
▫️
Production Designer: @miko_y_wasowski
Costume Designer: @hollycauser
Cinematographer: @arrangreen
Hair & Makeup Design: @syfermakeup
Prep: @_sophiagm
Location Manager: @marialuztremsal
▫️
Editing: Ruda Santos @carlyevabrown
Sound Designer/ Re-Recording Mixer: @tonemanufacture
Music by: @hollieboohiya
Colourist: @fszulc_colour @nomadeditco
Visual Effects Artist: @harrybinstead
Storyboard Artist: @lottie_b__
▫️
1st AD: @matteostrobelt @top_tarasin
Crowd AD: @joshsales4
Script Supervisor: @merrynrae
Production Manager: @srjeram
Set Dresser: Adam Howe
Trinity Operator: @james.poole___
Underwater Operator: @zacmacaulay
Focus Puller: @sphynxfilms_
Gaffers: Federico Belloli @shotbymather
Spark: @mackenziestretch
2nd ACs: James Tilyard, Osman Tekdemir
▫️
Casting by: @sydneyamee @camillaarthurcasting
Casting Assistants: @carmenflowerg Els Housley
▫️
Production Assistants: @kaiyanlalai @davidkemiki @jrosehatton
Trainees: James Hathwaite @ella_mcbrien @eloisegreenacre @conniejenkinsgreig
▫️
Poster Design:@voiceless_song
To view a list of some of Lucas's other projects, click here.