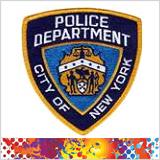 After more than 100 years of using firearms with 12-pound trigger pulls, beginning in October, new NYPD recruits will be issued guns that are easier to fire. This change is the result of a new initiative intended to improve accuracy in officer-involved shootings.
The NYPD believes that a lighter, 5-pound trigger pull leads to increased accuracy with a 9mm handgun. However, Professor Randolph McLaughlin, co-chair of the Civil Rights Practice Group at Newman Ferrara LLP, believes a mistake is being made.
McLaughlin, who was quoted in a Daily News article (which was picked up by London's Daily Mail), stated, "I think at a time when we're questioning the discharging of weapons by police, when we're providing officers non-lethal force devices, such as Tasers, why would you want to make it easier for cops to shoot people?"
Josmar Trujillo, an activist and writer, echoed Professor McLaughlin's sentiments and noted, "There is no protester or reform advocate in the country asking police for more efficient weaponry."
---
If you believe your civil rights have been violated, please do not hesitate to contact one of our attorneys at 212-619-5400.