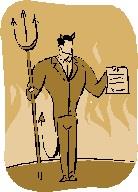 COMMISSION DENIED IN ABSENCE OF AN AGREEMENT
Recently, the Appellate Division, Second Department, issued a ruling that reiterated the importance of securing a contract (or some agreement) if you're a real-estate broker looking to make a commission on a transaction.
In Commercial Realty Services v. Mehran, N.Y. Slip Op. NY Slip Op. 03303 (2d Dep't, May 26, 2021) the Appellate Division reversed a lower court's decision in favor of a commercial real-estate broker, who had claimed an entitlement to payment.
The plaintiffs, a commercial real-estate broker and brokerage company, assisted a school seeking to sell an ownership interest and relocate to new space. At trial, the plaintiffs were shown to have found and toured the new space with a rep from the landlord entity, and engaged in some discussions prior to the school signing a lease with that owner.
Despite those efforts, the AD2 ultimately found that the plaintiffs had failed to show that there was an agreement that a commission would be paid. Accordingly, the plaintiffs' claims for breach of contract failed.
While other aspects of the dispute continue to be litigated, the message to New York's real-estate brokers is clear: communicate with all parties early on (preferably in writing), confirm who is paying your commission, and lock-in when and how you'll get paid.
If you are involved in a commission dispute, or have any questions regarding payment of a commission, please feel free to reach out to one of the attorneys at Newman Ferrara LLP, by calling 212-619-5400
---
To view a copy of the Appellate Division's determination, please click here