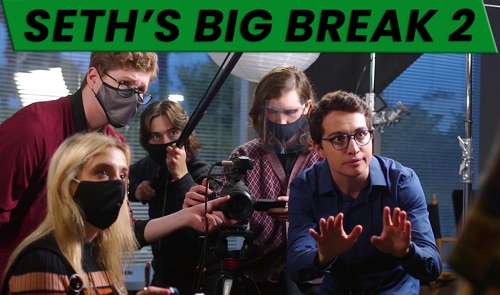 It's no secret that success in show business is exceedingly hard to come by. In fact, even before COVID devastated live theatre, and the rest of the entertainment industry, the unemployment rate for those in the community had always been high – around 90% (according to some publicly available stats).
But what if a wannabe accidentally makes millions with a movie knock-off of a popular film, and ends up losing that fortune almost as quickly as he made it? Well, that happens to be the premise of a new short film called "Seth's Big Break 2," directed by Luke Konopasky, and co-written with his sister, Rita.
When asked what motivated the team to do this project now, Luke responded, "We wanted to make this film because we believe in the power of a good laugh. It's been a hard year for everyone, and we believe that a comedic film can not only brighten someone's day, but it can bring people together."
Luke and Rita are also hoping that people will band together to help fund their new endeavor. And to that end, they've started a crowdfunding campaign where in exchange for a modest contribution to the cause, you'll receive a digital copy of the poster, an invitation to attend the premiere (virtually), a personalized thank you video from the team, a movie prop, to scoring a special acknowledgment in the end credits.
To learn more, visit: http://kck.st/3mEZLuf
Let's make this a fortuitous moment for "Seth's Big Break 2."
Pledge, today!
To check out some of Lucas's other projects, please visit: https://www.imdb.me/lucasaferrara