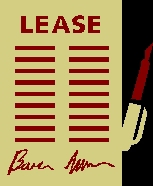 In the high stakes "broker's fee" game, a state court ruling (issued last week) leaves New York renters holding the bag.
On April 10, an Albany County Supreme Court justice struck down the state's interpretation of a particular section of the Housing Security and Tenant Protection Act of 2019 ("HSTPA"), which was thought to prohibit brokers from charging fees to potential renters.
To provide some background, on January 31, 2020, the Department of State ("DOS") issued an advisory to real-estate professionals noting that, under HSTPA, a landlord may not demand (of a prospective tenant) "any other payment, fee or charge before or at the beginning of the tenancy, except background checks and credit checks," for bringing about the "meeting of the minds" between a landlord and tenant, (i.e., a broker fee), and that the collection of such a charge could subject the broker and/or landlord to discipline.
In effect, that guidance prohibited NY brokers from charging a tenant fees for only about 4 days, because a lawsuit was swiftly filed by the Real Estate Board of New York and the New York State Association of Realtors challenging that guidance. (They were granted a temporary restraining order until the court could fully review and decide the issue on the merits.)
Last Friday, Justice Shannon Kushner invalidated the DOS's January 2020 guidance, claiming it was in error and constituted an "abuse of discretion." Her decision points to a statement made by Senator Brian Kavanaugh – a leading sponsor of HSPTA – who claimed that, "the prohibition was intended to apply to application fees, background check fees, credit check fees, and any other fees imposed as a pre-condition to negotiations for entry into a lease agreement." Since no reference to a "broker's fee or commission" was made in the law, the court invalidated the underlying guidance and brokers are now free to impose these fees on prospective tenants.
James Whelan, president of the Real Estate Board of New York, proclaimed the decision a big win for brokers: "[the ruling] ensures that thousands of hardworking, honest real estate agents across New York State can earn commissions without fear of unwarranted discipline by the Department of State .…"
Many renters and tenant advocates were displeased with the outcome, since they feel landlords should be the ones to bear the burden of these costs, as they financially benefit from the tenancy. Mike McKee, treasurer of the Tenants Political Action Committee, proclaimed: "There needs to be some kind of curb on how much brokers can charge. The clear solution here is that the legislature should step in and clarify the law."
As of this writing, it is uncertain whether the state plans to appeal the decision and/or whether the legislature will take further action to limit the amount brokers can charge tenants.
Source: https://gothamist.com/news/those-hefty-brokers-fees-are-returning-following-state-judges-ruling