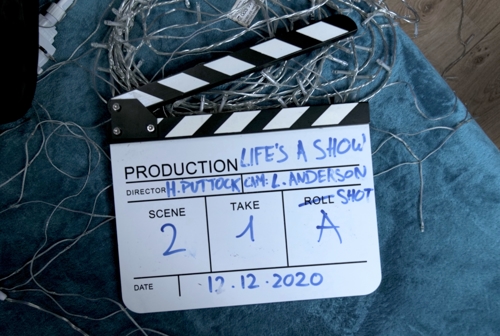 According to psychologists, humans strive for attention because it's a most fundamental, powerful need. Studies show that people who feel "connected" to others live happier, healthier, and longer lives – while those without such a "nexus" are mired in depression, cognitive decline, and higher mortality rates.
Professor Brene Brown, at the University of Houston, noted that "We are biologically, cognitively, physically, and spiritually wired to love, to be loved, and to belong. When those needs are not met, we don't function as we were meant to."
Of course, largely due to COVID, and its impact on our world, many have felt isolated and alone. And that's caused some to take pretty drastic measures -- much like our protagonist does in "LIFE'S A SHOW," a new short written and directed by Harvey Puttock.
In Harvey's film, an out-of-work actor decides he misses the theatre and, because his life lacks direction, hires a "director" to guide him. Of course, what ensues is utter pandemonium, which is guaranteed to entertain and amuse.
What isn't amusing is raising funds for film during the course of a pandemic. For a limited time, however, in exchange for your generous assistance, you'll receive a copy of the shooting script, a poster, a link to the film, and/or special acknowledgements in the end credits.
To learn more, visit: https://igg.me/at/lifes-a-show-short-film/x#/
George Bernard Shaw pertinently observed that, "The opposite of love is not hate, it is indifference."
Rather than be indifferent, let's pay special attention to LIFE'S A SHOW.
To check out some of Lucas's other projects, please visit: https://www.imdb.me/lucasaferrara