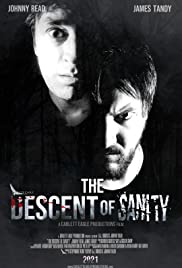 What would you do if your child were abducted?
And how far would you go to get your kid back?
Those are just some of the questions tackled by "THE DESCENT OF SANITY," a new film written and directed by A.J. Dodds and Johnny Read.
The statistics are daunting. Here in the United States, some 800,000 children are reported missing each year; that's about 2,000 youngsters, each and every day!
Fortunately, many of those cases are resolved within hours, or aren't considered "serious," (because a parent or family member is implicated).  However, there is a dangerous variant, and that's when strangers are involved. Girls seem to be at higher risk of victimization. And, tragically, there's a murder in about every 347,000 cases. (In the UK, where this film is being made, the numbers are equally staggering.)
Given that backdrop, I was enticed by the premise of this new story – which involves a father who is tormented by his daughter's mysterious absence, and who abducts the person believed responsible for the child's kidnapping. The team set out to explore "the duality of a man," who on the one hand is "the protector, the father, yet finds himself thrust into the role of judge, jury and executioner."
In development for a few years, this gripping drama seeks to address "real issues and circumstances."
But getting this project financed in a COVID-19 world has presented some very real challenges of its own. As a result, the team has initiated a crowdfunding campaign where, in exchange for a contribution, you can score some neat perks -- like a social media shout-out, exclusive behind-the-scenes footage, a "Gael McGregor Fan Experience," signed posters, t-shirts, a voice role in their next project and, of course, film credits.
For additional information, please visit: https://greenlit.fund/project/descent-sanity
Let's shine light on the evil of child abductions … and help "THE DESCENT OF SANITY" ... ascend to the screen!