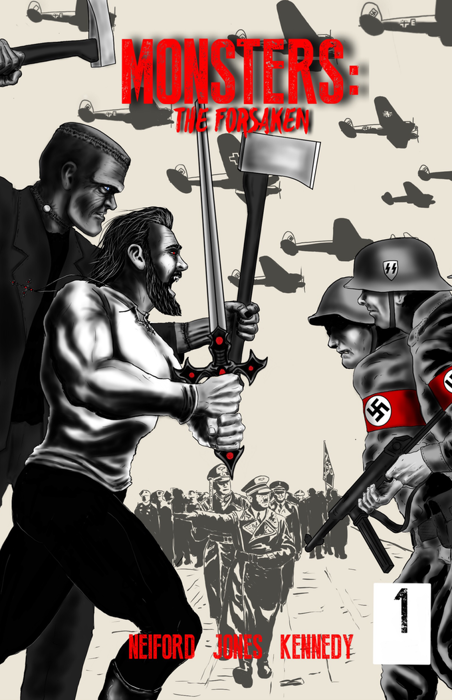 Stories about monsters have been part of Western culture for centuries. Ever wonder why that's so?
Well, according to Prof. Leo Braudy of the University of Southern California, "we are drawn to see what we also dread to see." It's a love-hate kind of thing.
But it's the love that attracted Brian Neiford to the genre. He notes, "For as long as I can remember, I have enjoyed the classic Universal Studios monsters, and loved reading comic books. Some of my fondest memories as a child are the times I sat in front of a small black and white television in my bedroom, watching classic Universal Monster movies on Saturday afternoons, or when my mom would take me to the corner grocery store and let me pick out a few comic books."
Well fast forward a few decades, and Brian is now a writer and artist, who has started a crowdfunding campaign to get his new comic book release -- "Monsters: The Forsaken" -- published.
Brian says that the series can best be described as "an action adventure/horror story set in 1945, centered around the events at the end of World War II, combining real life historical figures such as Winston Churchill, Franklin Roosevelt, Harry Truman, along with fantastical characters such as Dracula and Frankenstein's Monster, setting them on an epic collision course that will determine the fate of all mankind."
You can help determine the fate of Brian's project by contributing. And in return, you'll receive signed physical copies of (one or more of) the issues, a "I LOVE MONSTERS" protective face mask or neck gaiter, posters, t-shirts, tumblers, a cameo appearance, to a spot on the cover.
For more information, please visit: http://kck.st/3lzaAw0
To not support Brian's project would simply be monstrous of you.